From the sea one can recognize Rovinj by its cathedral located on the hill. This is the point of difference in appearance between Rovinj and Porec because the Porec cathedral is on the shore.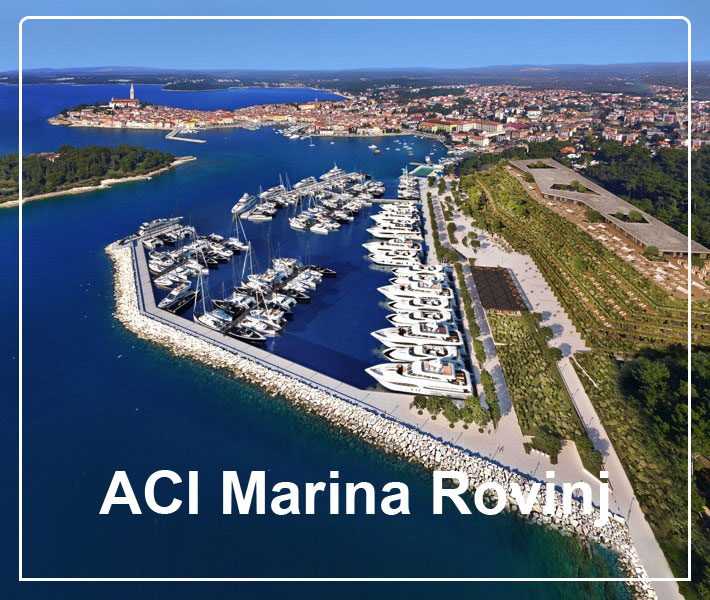 You can berth in Rovinj either in the city harbor to the south or in the ACI Marina further south across the small island of Katarina.
The berths in the ACI Marina are safe in all kind of wind. Access is possible from both north and south. The north inlet and city harbor are lighted so that boats can enter any time of day or night without difficulty.
Until customs formalities are settled, yacht should temporarily berth in the outer arm of the western pier on the sea side of the customs rail.
When the sea is rough, berthing from the bow should be carried out on inner side of the port of which only the south-east arm is available. The north section is reserved for big fishing boats stationed there, which must always have free access.
About half a kilometer south-east of the town is an ACI marina with 2 large marina pools that features 196 berths that can accept 35 m lenght ships on the annual berth. For daily berthing the marina can accommodate yachts and mega yachts up to 100 meters.
South-west and north-west it is protected by a breakwater and a floating piers. There is a considerable car park also. Each berth in the marina is equipped with water and electricity shore connections.
The ACI Marina Rovinj was reconstructed in 2019 and provide more than 1400 square meters of infrastructure area like: catering facilities, market, wellness area, world famous brands shops, yachting business offices, charter agencies and boat services. The Rovinj ACI Marina marina also features a modern wifi system, video surveillance system and energy efficiency system.
Shopping can be done both in town and marina. Beside the petrol pump the sea depth is 4m. The pump is situated at a pier in the north part of the town. This place is, however, completly unprotected from strong western and northern winds and in such cases tanking is very difficult, almost impossible.
In the ACI marina there is a specialized shop for yachts spare parts.
Connections:
by train – the Kanfanar station is 17 km away,
by plane – Pula airport is 37 km away,
by car it is 90 km from Trieste.
Main distances:
500 km from Milan,
410 km from Graz ,
590 km from Vienna,
610 km from Munich.
Read more about How to get to Rovinj Croatia!
Important informations for boat owners
The use of motor boats and speedboats less than 300 meters from the coast is forbidden ! Watch out for bathers. Violation of this regulation can result in fatal accidents !
Enquire about weather conditions every time before setting sail. If the weather forecast is not good, stay ashore !
Do not set sail without a suitably sized anchor with a line at least 50 metres long.
If you prick yourself on a fish, immediately squeeze the blood out of the wound and keep in immersed in hot water. Seek medical assistance as soon as possible.
Depletion of shells is banned in Croatia.