Rovinj – the city of romance and culture, is a place of cultural and entertainment events. The region of Istria and and town of Rovinj are rich in various events, so its up to You to explore our website and we will gladly recommend You the best places and events!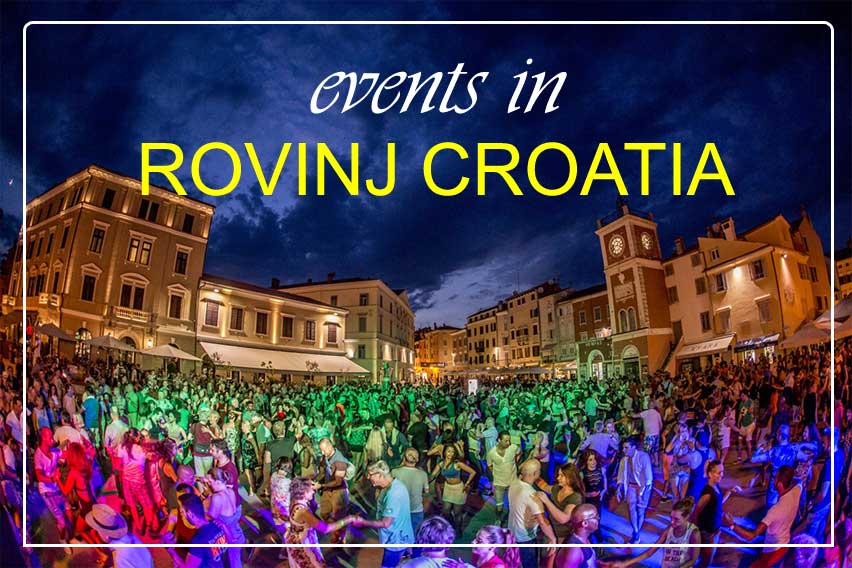 Salsa Festival
One of the most famous events in Rovinj is certanly Salsa Festival – a unique touristic event in the Adriatic, which every year gathers more lovers of dance, workshops for beginners, competitions, dancing and fun for six memorable days in June.
Rovinjs Night
For those who find themselves in the city in the end of the August, we recommend participation in Rovinj's night, a traditional festival which is held for more then four decades, and with which tourism workers farewell to the seasone and thank the guests and visitors of St. Euphemia's city for their stay. Spectacular firework, one of the most beautiful and oldest in the Mediterranean is a trademark of Rovinj's night, and event is complete with performance of Croatian or foreign performers.
Rovinj Photodays
Unavoidable event is Rovinj Photodays, the national photography festival that brings together the best photographers from Croatia and Europe.
These and many other events and manifestations are held throughout the season in Rovinj, and nearby places also offer various contents that will complement your holiday.
Rovinj Red bull Air Race
For a couple of times, the town of Rovinj has been a proud host of a famous Red Bull Air Race – an world chamionship which gather the best air pilots from all over the world.
Pula Film Festival
Pula Film Festival is the oldest and most attended film festival in Croatia, and according to the London The Guardian, one of the best and most spectacular outdoor festivals in Europe. Traditionally it is a gathering place for local filmmakers, many journalists and festival directors, and major European film names.
Motovun Film Festival
Unlike it, Motovun Film Festival is a five-day movie marathon, in which the projections are in a continous series from 10 am to 4 am. Motovun is a small festival showing small films, in the warmest sense of this word.
Pula Arena Concerts & Events
Pula Arena is a popular and spectacular place of great concerts of famous local and international performes, such as Zucchero, Sineas O'connor, Elthon John, Norah Jones, Paco de Luca and many others.
Legend fest
Legend fest is a festival of folk tales, legends amn myths of Istria, is held in the medieval streets of the town Pican, where many theather groups and organizations come, whose plays reveal a world of literary and folk tales in Istria. During the festival the town is decorated with Istrian antique fabrics and the streets are full of witches, giants, fairies, pirates and other legendary heroes.
During the year you can take part in numerous entertainment and cultural manifestations as well recreational and educational events and holidays.
Detailed information on all events can be found in the free brochure of the Tourist Association of Rovinj.
Grisia
Grisia exhibition – is an art exhibition taking place in the most famous Rovinj street with the same name.
Other events in Rovinj
Festival Rovinj delicacies
Regatta of ships with Latin sails
Salsa festival
Tradition
Fisherman evening
Seven Suns and 7 Moons Festival (Sete Sois Sete Luas) – Mediterranean Music Festival
Weekend Media Festival
Rovinj Summer Festival
Exhibition grisia
Night St.Lawrence
Rovinj for the night
BaRoMus – Baroque Music Festival
Argentine Tango Festival
International Choral Music Festival
Licensing Factory New Europe
Croatian Summer Salsa Festival in ROVINJ
For the past eight years, Croatia has been home to one of the most popular dance festivals on the planet. The Croatian Summer Salsa Festival returns once again to the city of Rovinj for yet another week of sun-baked dance and celebration. The festival is open to people of all interest and skill levels. Running in the summer time, the festival pretty much takes over beautiful Rovinj, with party locations, dance classes and hotspots all over the city. A colourful dance and music festival, you can take it easy and enjoy the hot weather, beautiful surroundings and great food and drinks, or you can get stuck in to the action yourself. There are classes and seminars for learning all kinds of salsa styles, taught by both local Croatian instructors as well as world renowned dancers from all over the globe. Rovinj is a great place to stay any time of year, as it has a great deal of cheap, central places to stay, from simple rooms to private apartments. Check with sites like rovinj.com.hr for more details on specific dates.
Before the week officially kicks off, there are a number of workshops and tutorial events that get you prepared for the festival. For total beginners there are classes in basic salsa and other Cuban dances and for the more experienced there are advanced classes in forms such as Bachata and Rueda, where you`ll join others in learning the newest techniques from the masters. It is advisable to get to Croatia for the week before the "official" start of the festival. Not only will you get the chance to join in some of the workshops, but you`ll also get to know the area a bit more, which will make things easier when the crowds arrive.
While the central theme is obviously the salsa dancing, there is plenty more going on than just that. Boat trips and pool parties are organised throughout the week, exploring the stunning coast of Croatia. The beaches become giant dance floors that go on throughout the night, allowing you to enjoy every minute that you are in the country.
The festival organisers have a number of great deals in place for making the most of the weekend. These range from "all-in" style passes that get you into everything, to a more "beginner" based pass where you`ll get to try your hand at a number of different things without getting out of your depth. Some of the passes also include boat trips and other organised adventures. These are a great way to make the most of your time there. As stated, cheap accommodation can be found pretty easily, so splashing out on one of the passes is a great and affordable way to see as much of the festival as you can.
Folk Festivals
Rovinjsko selo
St Anthony's Day is celebrated on 17 January. There is a folk festival with entrtainment, folk songs and traditional wine testing and selection of the best wines of the Rovinj winegrowing area for "Vinistria" wine fair.
Kanfanar
The folk festival of St Jacob "Jakovlja" is held on July 25th. Folowing tradition, there will be a mart of Istrian oxen. The festival is an opportunity to enjoy local Istrian music played on traditional folk instruments – "mih" and "roženice" (bagpipes and a special kind of flute) – and to taste some typical Istrian dishes.
Žminj
The most important event of Žinj is held regularly on the last Saturday in August. St Barholomew's Day – "Bartulja", is celebrated with a cattle fair where you can sample a rich choice of local dishes and drinks. Try "supa" an Istrian wine speciality!
Bale
"The Bale night" is held on the first Saturday in August. Along with other entertainment, the visitor can enjoy local folk dances in traditional costumes.
Sošići
A traditional festival is held on the feastday of St Mary of Good Health on 21st November. The festival offers entertainment, sports events and home made food.
Fishermans fiestas in Rovinj
Rovinj is unique for its folk traditions repeatedly offered to visitors. Romantic atmosphere of the Old town and picturesque port awakes images of ancient time. Fishermen fiestas occur in this ambient during summer season and present an exquisite event out of time. At these fiestas citizens and visitors become actors of artistic happening. Entire Rovinj port turns into a stage.
With the sound of Rovinj's "bitinada" and mandolins you can enjoy fish specialties prepared by fishermen from fresh catch and presented on their ships. These fiestas are a spice on rich offer of Rovinj – the pearl of Adriatic – la perla dell' adriatico.
The most popular artists from Rovinj engaged in preserving and valorization of town's tradition, including folk group "Batana", quartet "Le quarto colonne", trio "Biba, Vlado and Ricky" and singers Sergio Preden-Gato and Mirko Cetinski, will usually participate in fiestas.
It is widely known that people of Rovinj have a great affection for music. It is said that two men from Rovinj are enough for a choir. Considering that, it is not surprising that Rovinj created a unique manner of singing.