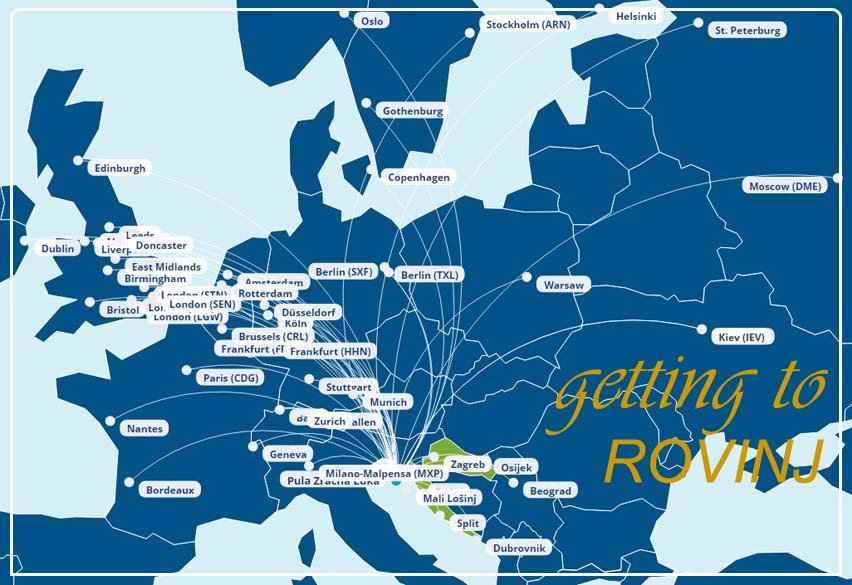 Travel to Rovinj by Plane
Many guests arrive by plane using the nearest airport in Pula, distanced only 38 kilometers from Rovinj. From London and the UK there are flying low-budget airline like Ryanair. Cheap flights to Croatia also provide Easyjet and Wizzair. For customers from Germany there is Ryanair, which flies to Pula. From Norway and Sweden there is Lufthansa. Out of season one of the closest airports are Zagreb, Ljubljana, Trieste, Treviso and Venezia.
If you plan to rent a car after the arrival, we can recommend you the cheapest car rental rates using _______________.
Airports near Rovinj
Airport Pula – 38 km away and about 40 minutes drive
Airport  Zagreb – 250 km away and approximately 3 hours drive
Airport Ljubljana – 190 km away and approximately 2 hours and 20 minutes drive
Airport Trieste – 110 km away and approximately 1 hour and 50 minutes
Airport Venice – 256 km away and approximately 3 hours drive
Airport Treviso – 280 km away and about 3 hours and 30 minutes drive.
Airlines
Some of airline travel companies flying to Pula Airport: austrian.com, croatiaairlines.hr, csa.cz, malmoaviation.se, airfrance.com, air-mediterranee.fr, dubrovnikairline.com, alitalia.com, malev.hu, germanwings.com, tuifly.com, lufthansa.com, norwegian.no ,flytap.com – Lisabon Zagreb, transaero.com – Moskva Pula ,aeroflot.ru – Moskva Pula ,uralairlines.ru, jat.com ,flysas.com ,thy.com ,ryanair.com, thompsonfly.com, ukraine-international.com, flymonarch.com, wizzair.com ,easyjet.com ,flyglobespan.com…
Cheap flights to Rovinj Croatia
Cheap flight to Pula
From Manchester you can travel with company Thompson Airways to airport Pula.
On Pula airport you can also travel with many others airport companys in Europe like Austrian airlines group, Transavia, Germanwings, Malmo aviation, Air mediterranee, Norwegian air  shuttle, Monarch airlines, Scandinavian airlines.
Check Airport Pula website: www.airport-pula.hr
Cheap flight to Rijeka
To airport Rijeka which is located on Krk island you can also find cheap flight with company Ryanair. The flights with Ryanair are from airport London Stansted every Monday and Friday. There is also a flight with Croatia Airlines from London Heathrow to Zagreb and than you can catch another flight to airport Rijeka.
It is posible to find Ryanair tickets for just 30 euros + taxes.
Other flights to airport Rijeka are from Koln, Stuttgart, Munster (Osnabruck) and Dusseldorf with Air Berlin, from Stockholm with Ryanair, from Oslo with Norwegian, from Kosice with Vip Wings, from Riga with Smartlynx, from Innsbruck with Tyrolean Airways and from Goteborg with Dubrovnik airlines.
Airport Rijeka website: www.rijeka-airport.hr
Chep flight to Zagreb
Airport Zagreb is the main airport in Croatia and is linked with many countries in Europe.
If you wont to fly from United Kingdom than you can fly from London Gatwick or London Heathrow.
You can also find flights from Amsterdam, Athens, Barcelona, Berlin, Bologna, Bruxelles, Budapest, Copenhagen, Dortmund, Frankfurt, Istanbul, Lisboa, Munich, Paris, Stuttgart, Vienna and Zurich.
It is posible to find Ryanair tickets for just 30 euros + taxes.
For small price for air tickets you can always look for last minute flights.
If you need there is possibility to find a cheap transfer from airport Pula, Rijeka and Zagreb to your accommodation. We can recommend the market leader in the car rental industry  ________________.
Airport Zagreb website: www.zagreb-airport.hr
Travel to Rovinj by Car
Most tourists come to Rovinj by own cars. Good connections and development of road infrastructure in recent years has significantly progressed. The construction of the highway through the whole Croatia and highway travel in Istria, cars are highly accelerated.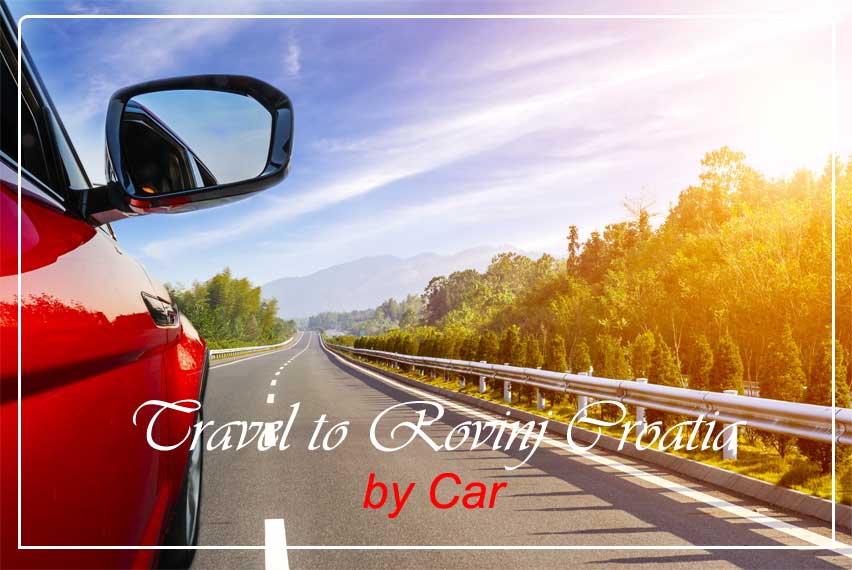 By continuing to invest, in a few years we can expect a complete profile of the istrian highway Y (the works are in progress).
Already, from Zagreb to Rovinj with a car takes about 2.5 hours and  from Trieste 1.5 hours.
If you travel to Rovinj from Rijeka you will pay only a tunnel fee (28 kuna). Gas stations is on the right at the exit of the tunnel, and the next is near Pazin and Rovinj.
If you are traveling from Italy or Germany, Austria via Slovenia is the only toll that is charged on the bridge (14 kuna ). If you are coming from Italy read about how to avoid paying Vignete in Slovenia, and find out that alternative routes through Slovenia. Also read the directions to follow to arrive in Rovinj!
Signs to follow if you are traveling from:
Italy (Trieste – Koper (Isola) – Pula (Pulj) – Castle Plovanija or border crossing > Rovinj
Slovenia (Ljubljana – Trieste – Koper (Isola) – Pula (Pulj) – Castle Plovanija or border crossing > Rovinj)
Austria (Villach – UdineTrieste – Izola (Isola) – Pula (Pulj) – Castle Plovanija or border crossing > Rovinj) …
Hungary, the Czech Republic, Slovakia, Serbia (Zagreb – Rijeka – Pula).
Distances Rovinj
Rovinj – Trieste 90 km
Rovinj – Zagreb 250 km
Rovinj – Ljubljana 180 km
Rovinj – Venice 290 km
Rovinj – Milan 520 km
Rovinj – Munich 630 km
Rovinj – Wien 560 km
Rovinj – Bratislava 630 km
Rovinj – Budapest 620 km
Rovinj – Prague 820 km
Rovinj – Frankfurt 880 km
If You are in search for an affordable car hire, we can recommend the market leader in the car rental industry  ________________.
Travel to Rovinj by Bus
If You dont have a car or do not want to drive one, You can travel to Rovinj using a bus. Since Rovinj has good bus connections with other cities in Istria, there are many buses per day and overnight that connect Rovinj with cities like:
Porec (1 hour drive),
Pula (40 minutes drive),
Rijeka 3.5 hours),
Zagreb (5-8 hours) and Dubrovnik .
Because of a modern highway (Istrian Y), Rovinj is also connected by numerous bus lines with main European cities like Ljubljana, Koper (Slovenia), Trieste (Italy), …
To find affordable bus tickets to Rovinj, You can book tickets online at _____________.
The Rovinj bus station is situated in the Rovinj city center, 100 meters from the city waterfront.  The right address is Ul. Mattea Benussia, 52210 Rovinj.
For more information about departure/arrivals, please visit the following website: ____________.
Travel to Rovinj by Boat/Ferry
It has never been easier to book a ferry and get to Rovinj by boat. Traveling by boat/ferry is becoming very popular exspecially for tourists who dont like wasting time in road jams.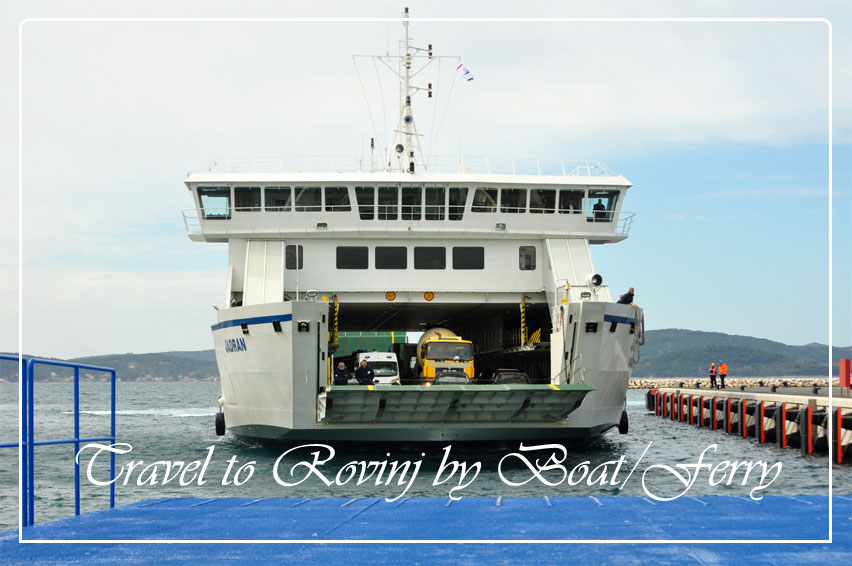 Various companies offer boat ride from Italy to Rovinj and Istria in Croatia, and so with Venezia Lines you can travel from Venice to Rovinj, with Trieste Lines you can get from Trieste to Rovinj and with Emilia Romagna Lines you can travel to Rovinj from Ravenna and Cessenatico.
The sea distance from Venezia to Rovinj is 70 nautical miles with high speed ferries and hydrboats run almost everyday, taking just around 4 hours to get from Venice to Rovinj.
Being the best connected city by ferry to Italy, its imporant to note that there are no available ferries from Rovinj to other towns in Croatia. (Check the ferry schedule from Italy to Rovinj).
Travel to Rovinj by train
There is no availble direct train connection to Rovinj. The closest railway station is in the city of Pula (30 kilometers from Rovinj, only 30 minutes by car) and Kanfanar, 15-20 minutes drive from Rovinj.
For more information about departure/arrivals, please visit the following website.