Istria was quite popular for clients from the very beginning of modern tourism because of mild and healthy climate and interesting history.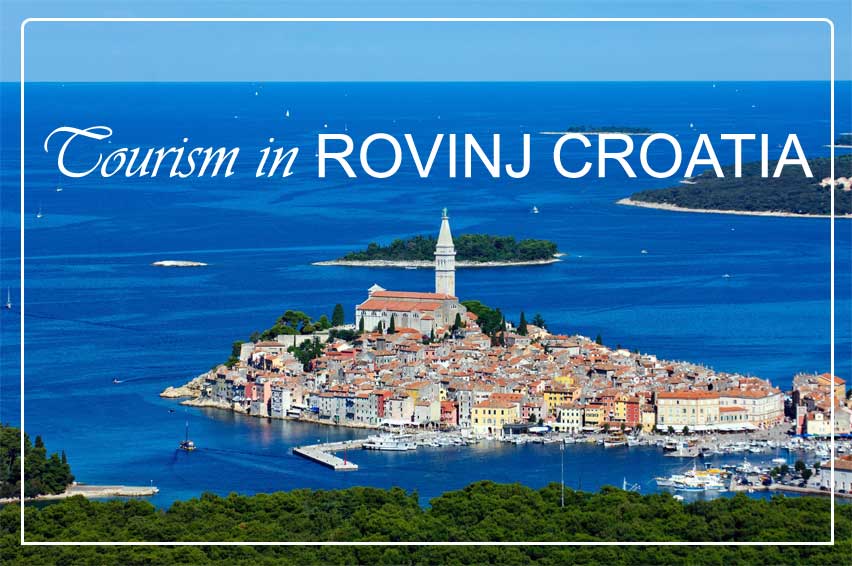 After installing regular trip-liners fromTrieste to Rijeka by Austrian Lloyd in 1844, ships regularly stopped in Piran, Novigrad, Poreč, Rovinj and Pula. With building of railroad Divača-Pula with an extension Kanfanar-Rovinj (1876), Rovinj tourism developed more, although those were only individual visits without organized groups.
We take 1888. as the official beginning of tourism in Rovinj, when sea spa Theresia Seehospiz for poor children with scrofula and rachitis was opened.
Children came mostly from Austrian-Hungarian monarchy, but also from Germany, Russia and other countries. The first meteorological measurements of air temperatures began here and results were compared with those from Vienna.
In 1890 four islands : St. Andrew (Red Island, Crveni otok), Maškin, Šturag and St. John were bought by knight Georg Hutterodt, an entrepreneur from Trieste. In following years he bought several private properties south of Rovinj in Punta Corrente, Montauro, Škarabe, Monvia and Monte Mulini. Almost 90 ha of meadow, vineyards and olive plantation were forested with carefully chosen Mediterranean and exotic plants creating a true natural park.
Honorable guests came to the island as soon as they were bought, testimony we can find in memory-book "Cissa Insel" and carvings in stony walls along the walkway on the island.
Inscriptions from the memory book, dated in 1908, include prince and princess Coburg Goth, princess Stephanie von Habsburg, arch-duke Ludvig Salvatore, great duchess Maria Josef of Sachsen, princess Maria Theresia of Bavaria, prince Hohenlohe with family, prince Johann Liechtenstein and other representatives of European nobility, many admirals and officers of k. und k. from Pula, like Maximilian von Sterneck, Herman von Spaun, Rudolf Montecucciola, Franz von Minnutillo, businessmen Arthur Krupp, Carl Escher, Paul Schoeller, E. Skoda, scientists R. Virchow, R. Burkhardt and others. Islands were also visited by royal heir Franz Ferdinand in 1910.
Letter written by estate guardian speak of that event. Guests came to the island more often and stayed longer and soon trip resort grew into a place of stationary tourism.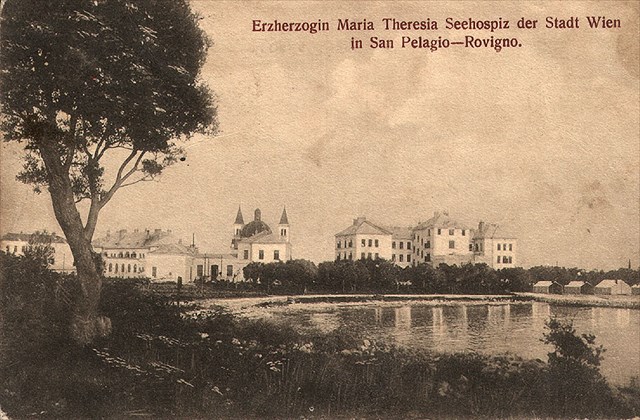 Because of his exceptional business success, Georg Hutterodt was given a title of knight for his accomplishments in industry, by emperor Franz Joseph in 1898. His family reached the top when he became a member of Royal Senate in 1905. As young and successful merchandiser, he became first Japanese consul in Europe in1879. Admirer of sea and open space, Georg Hutterodt owned a yacht Tornato and he bought his first steam boat in 1894, yacht called Suzuma (Japanese for sparrow) and together with arch duke Karl Stefan initiated sport yachting in this area.
Enchanted with beauties of this land, and knowing success of same touristic places on Adriatic such as Brijuni islands.
In 1908 he published a brochure explaining his idea of spa with example of other similar destinations on Adriatic coast. He formed limited liability company to take care of finances. Project included Monte Mulini, Montauro i Punta Corrente where the paths, arbored walks, meadows and parks were already finished.
Beside that, entire estate was surrounded with 2 m high dry-wall, 900 m long, from the iron gates to the park to the sea at Škarabe. He planted sport fields, built 3 hotels and spa at the old Brunetti beach in Lone lagoon. First hotel was planed to be at the last curve of the road leading towards the park, and the other in park itself at the crossroads to Punta Corrente and Montauro. The third one should be at Punta, by the sea shore.
A line of villas were planned to be build along the main road. It was a profitable project and count Hutterodt refused an offer in 1908 to sell the land for one billion kunas. In 1918 dr. Weisskirchner, the mayor of Vienna, became interested in purchasing it, in behalf of his town. He was inspired by the "little red book" as the project was called by Marie Hutterodt. His offer was also refused after several months of negotiations.
Most works were stopped after early death of Georg Hutterodt in1910 but the project made people realize the potentials of this area and gave impulse to the real development of tourism. In 1911, Consortium of Innkeepers, Coffee-shops Owners, Liqueur Salesman and the Hotel-keepers was founded. With help from Hutterodt widow hotel "Adriatic" was opened in 1913 and the grounds for modern tourism were there.
With this project Rovinj was supposed to became a jewel of, as Hutterodt called it "La Costa del Sole" – Sunny Coast. Although not fulfilled, the project had a great influence on social and economic circumstances, at increasing of employment of local population, especially women, at crossing from traditional manufactory and agronomy to catering trade.
Here we present touristic brochure, originally written in German language although all toponyms are in Italian. It was written as an elaboration, with sketches, mainly to attract investments, but also guests, and had marketing character.
Nowadays it presents a charming, almost empathic description of the town of Rovinj and the surrounding area, it takes us back to the age of steamships, sloops, mighty cruisers and old trains. In spite the big changes and modern accomplishments, with a certain time distance we could use this brochure even now in the same purpose because it is so full of proper information about beauty, offers and traffic.
Luckily, the air, filled with sounds of batanas, trabakuls, braceras, sails in the wind and the smell of sea salt and aromatic herbs hasn't changed since the brochure was written.