In Rovinj you will definitely find excellent equipped apartments that will enable you to have a wonderful holiday.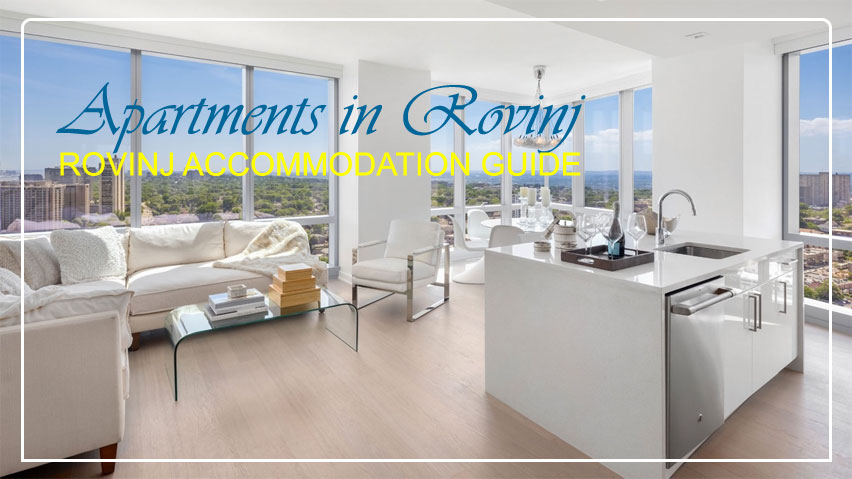 You can choose the idyllic apartments that are located near the center, allowing you to explore the city and its surroundings undisturbed.
Apartments in Rovinj are an excellent choice if you want to enjoy all the beauties that Rovinj offers you.
Family apartments in Rovinj family houses are fully equiped apartments for self catering, usually consisted of 1-4 bedrooms supplied with bed linien, kitchen, bathroom with private shower or bath or WC, balcony or terace and the possibility of parking with a garden area.
The daily rent includes : final cleaning, gas, water and electricity.
5 Best Rovinj apartments
Residence Porta Antica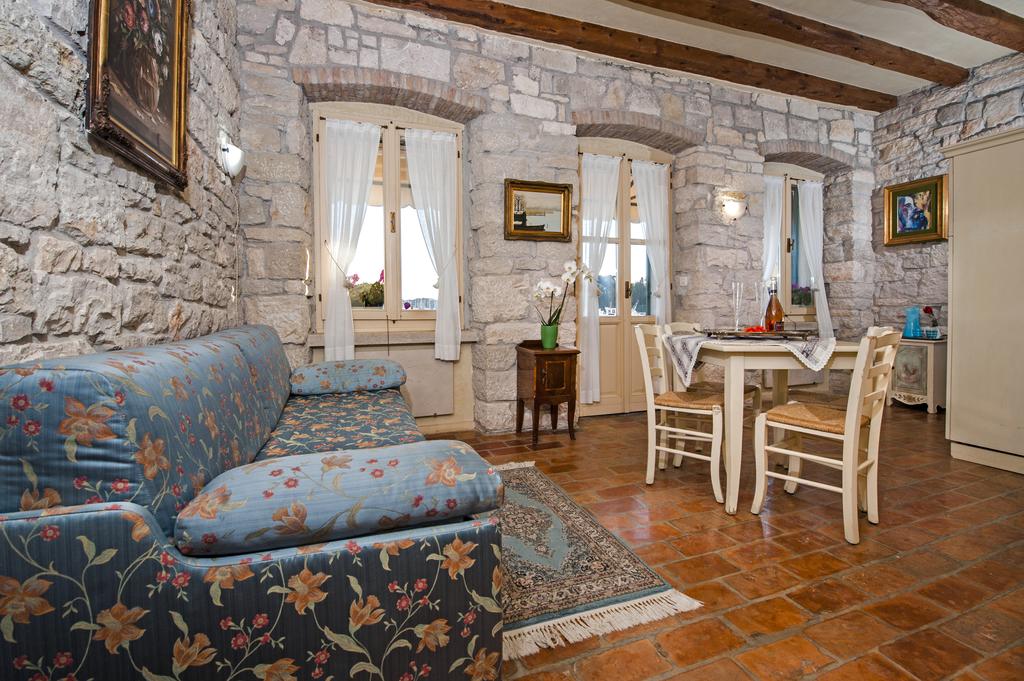 Residence Porta Antica is located in the Rovinj Old Town waterfront, just a few meters from the sea. It is a 3 star (***) residence property featuring rooms that include a private bathroom.
All the rooms are arranged in a antique-style with stone and brick walls with air-condition and free Wi-Fi. This accomodation property location is ideal starting point to explore the Rovinj Old center or spend a lazy afternoon sunbathing on the beach near by.

Luxury Apartments Magali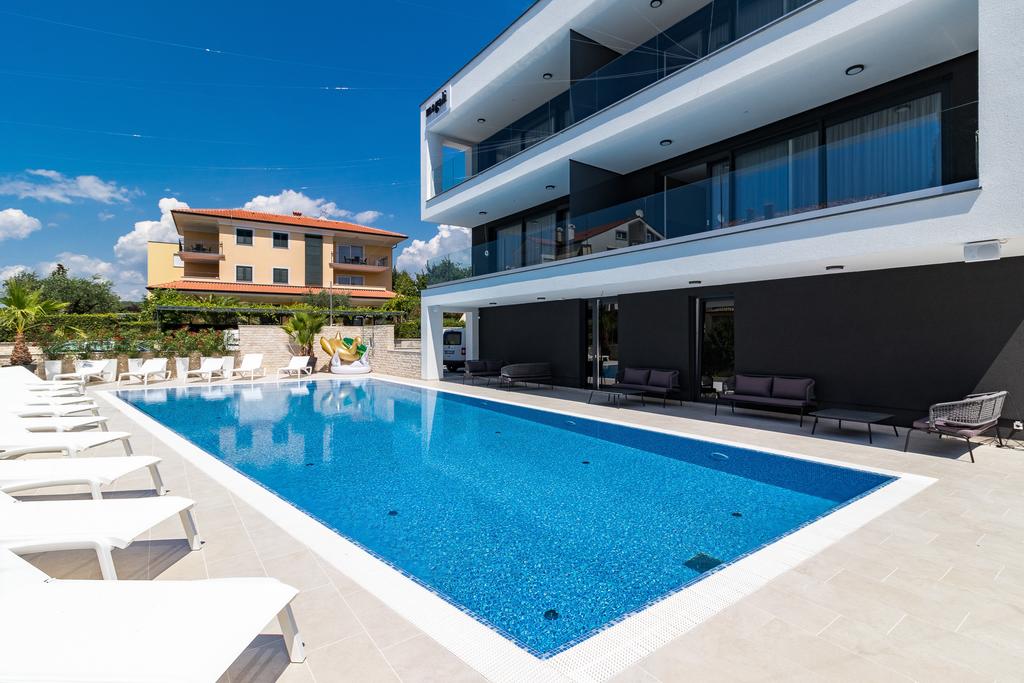 Luxury Apartments Magali are located 3.5 kilmeters from the Rovinj center. This 4 stars (****) proprety offers two-bedroom apartments and studio apartments.
All the apartments feature free WiFi, air conditioning, seating area, Sat TV, kitchen and a balcony with a garden view. There is also a pool included in the price. Luxury Apartments Magali are the perfect place for spending a nice summer holidays in Rovinj.

Studio apartment KOS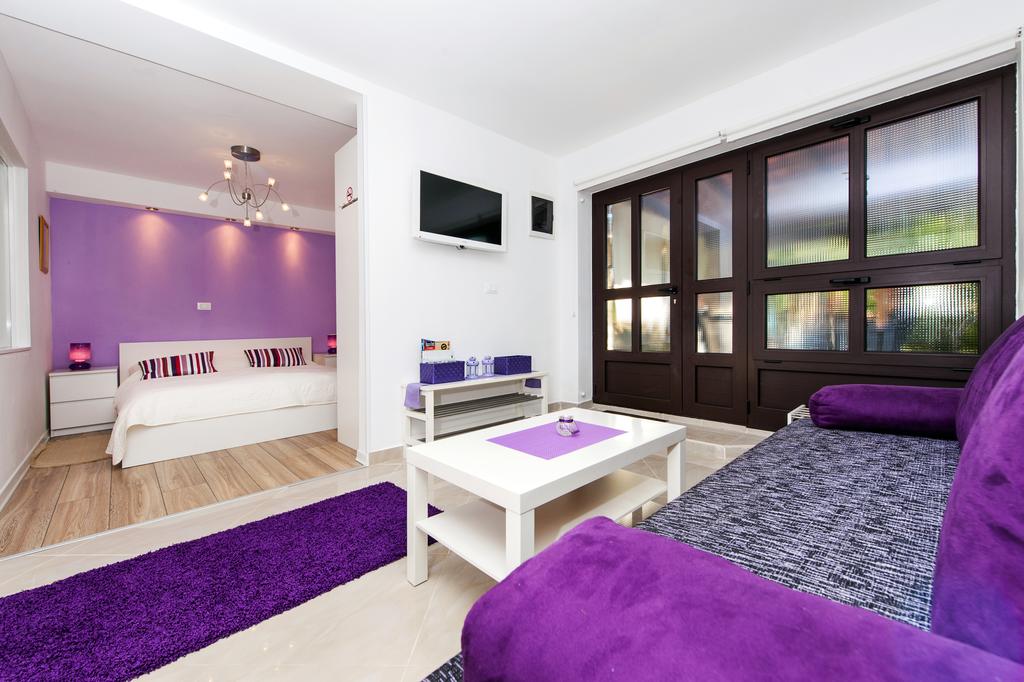 Studio apartment Kos is a 4 stars (****)  accommodation  proprety for 2 adult person + 1 child. It has one bedroom, a living room, a kitchen and a bathroom. Studio apartment Kos is situated 3.4 kilometers from the Rovinj Old town.
The apartment features a dishwashing machine, satTV, free wifi Internet, air condition and a garden with a grill. Free parking is included in the price. Great place for an enjoyable holidays.

Rosina Sea View Apartament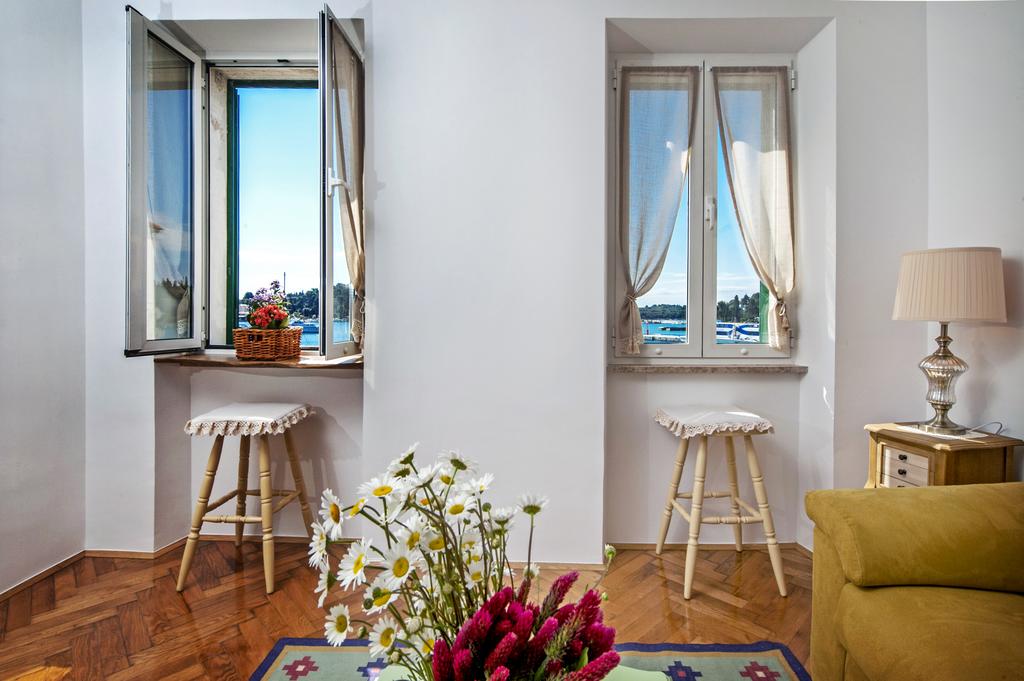 Rosina Sea View Apartament is a beautifull 3 stars (***) apartment situated on the Rovinj waterfront, just a few steps from the sea. The apartment is ideal for 2 persons and features a living room, bedroom, bathroom and a terrace.
Rosina Sea View apartment offer an amazing view which overlooks the sea of the Rovinj harbour. This apartment has a free WiFi , microwave oven, a stove and fridge.

Casa Kaligari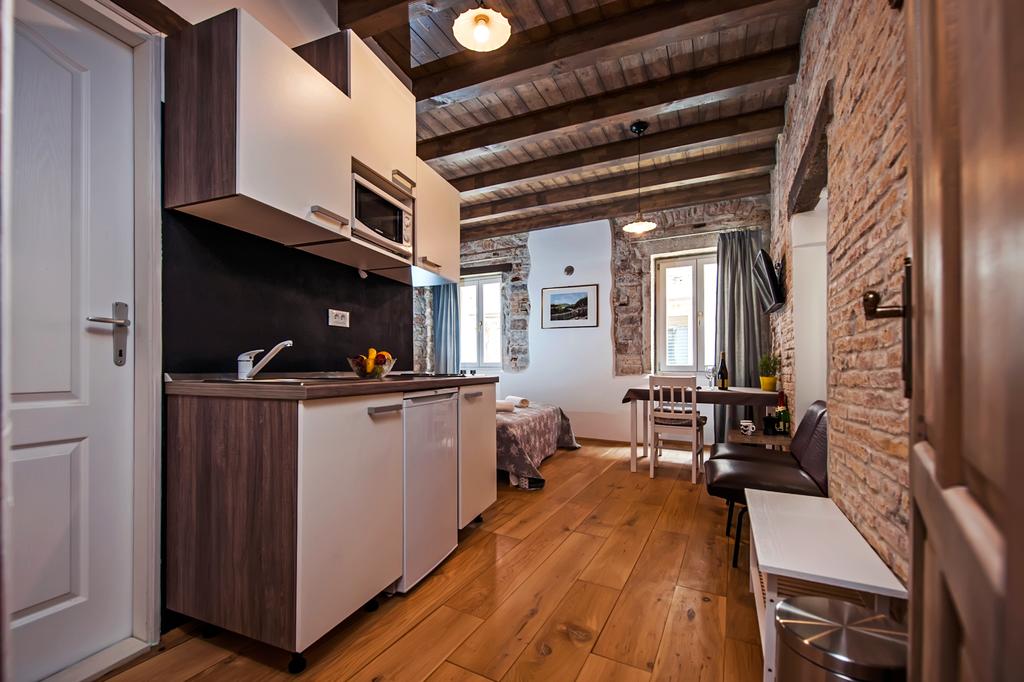 Casa Kaligari is a 3 stars (***) rental proprety situated in the Rovinj City Center next by the Rovinj Museum. Casa Kaligari offers 2 studio apartments for two persons. All the apartments feature flat satTV, free wifi internet, microwave oven and a coffee machine.
This apartments are ideal for couples who want feel the romantic atmosphere of Rovinj.

Rovinj Apartments Tourist Guide
Often, renting a holiday apartment has the advantage of making it easier to get in touch with the local population. The landlords of the apartments often have good tips and suggestions for things to do in Rovinj.
In addition, the Croats are considered very hospitable. Apartments in Rovinj can be booked directly with the landlords or through tour operators and internet portals.
When choosing an apartment for Your holiday in Rovinj, there are many different factors to consider.
Different Types of Apartments in Rovinj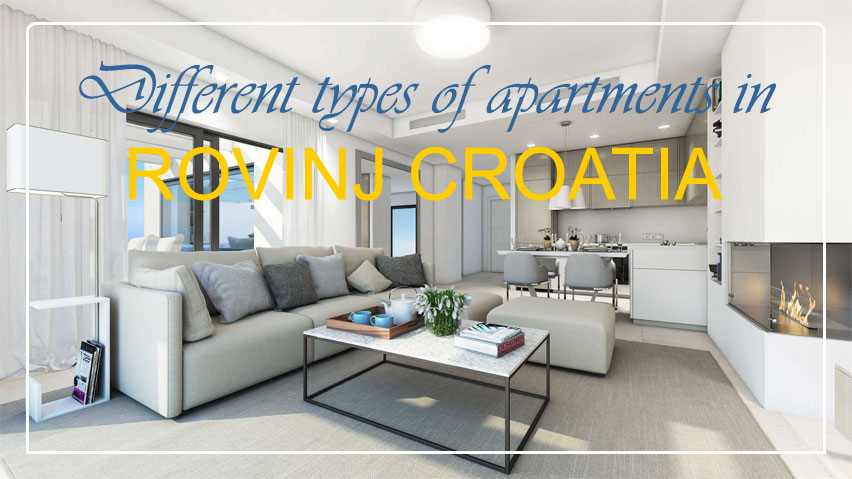 Like in other touristic destinations in Croatia, the apartment types in Rovinj follow the official state accommodation categorisation that include different types of apartments such as:
Apartment (Classic type)
The classic apartment type of private accommodation is the most booked and represented type of rental propreties in Rovinj. The reason for that is beacuse the typical apartment very is practical for tourists – it has a living room, kitchen, toilet space, a terrace and at least one bedroom.
For the apartment type of accommodation it is very important that the bedrooms are physically separated from the kitchen. Apartment accommodation are usually booked by families or larger group of tourists.
Apartment studio
If You analize the apartment prices in Rovinj You will notest that the apartment studio rentals are cheaper than a classic apartments. The reason for that is the fact that a studio apartment dont include seperate rooms – the kitchen and bedroom are merged and make one unit.
Beacuse of the lower price, this kind of apartment are very popular. Compared to the room type of accommodation, the advantage of apartment studio is the that fact that it usually have a little kitchen where You can cook. Regular rooms dont have a kitchen.
Apartments Studio are suitable for smaller families with the posibility of self preparing meals or for couples.
Rooms
Rooms are accommodation propreties made of one space intended for resting / sleepening. Rooms usually have a little bathroom/toilet but dont have a kitchen. They are suitable for adventorous and procative type of guests who after breakfast want to expolre the city.
Rooms are aslo an excelent choice for couples who want to spend a romatic holiday and do not have time for preparing the meal.
A word about apartment categorisation
Apartments categorisation is specified by a professional rulebook on a state level. Depending of the equipment, number of rooms and bathrooms included their area, the apartment can get from 2 stars (**) to 5 stars (*****) categorisation.
There is no need to say that a 5 star apartments are the most expensive one.
Price of the apartments in Rovinj
In Rovinj there is a large number of private accommodation – apartments with different prices. Take note that Rovinj is an established tourist destination that attracts a big number of tourists from all over the world.
The demand for private accommodation is very high and thats the main reason why the apartment rental prices in Rovinj are a little bit higher than other touristic destinations in Croatia.
Surely, Rovinj is not expensive as Dubrovnik is, but is not cheap as some second class touristic destinations along the Adriatic coast. Depending of the apartment location and equipment, rooms area etc, from our experience the bottom price of an average quality Rovinj apartment for rent will be from 20 euro/person per day and more. The price of the apartment depends of its location, equipment, categorisation and number of person to accomodate.
There are a few things You must check before renting the apartment in Rovinj, such as what is included in the price:
is the air condtioning / is it included in the price?
is there an available parking spot / is it included in the price?
is there a grill / is it included in the price?
is there a wifi Internet connection / is it included in the price?
is there a baby cot / is it included in the price?
whats the cancellation policy?
Location of the apartments in Rovinj
As we noted before, there are various locations in Rovinj where You can find an apartment for rent. Surely the closest You get to the Rovinj Old Town, usually  the apartment renting costs are higher.
Consider that renting an apartment in the Rovinj Old town perhaps is not the best option for a large number family with a car that plan to stay 2 or 3 weeks in Rovinj. On the other hand if You are a couple or a solo traveler without a car – staying in Rovinj for a few days, renting an apartment in the center of Rovinj is a great option.
Everybody want a seaview! An apartment with a seaview usually has a higher price and its quite reasonable – there is a limited number of apartment with a seaview and the demand for that type of apartment is enormous.
If You want want an quiet location, without the crowd and traffic, the wider area of Rovinj offer nice apartments with reasonable prices.
Rovinj apartments equipment
A well equipped apartment will attract more guets. Depending on the apartment categorisation, the usual (standard) equipment that every decent apartment must have is:
TV,
satTV,
wifi Internet,
oven-stove,
fridge,
air conditioning …
There are also many luxury apartments having extra equipment like:
sauna,
pool,
air condition in every room,
heating,
washing machine,
microwave oven …
Where to find and how to choose an apartment in Rovinj?
The city of Rovinj is located on the coastline rich in bays with 22 small and eventful islands, which are very popular among tourists. Varies beaches allow relaxation and resting. In the Rovinj area there is also the wonderful park forest called Golden Cape ("Zlatni rt" or "Punta Corrente").
Finding an apartment in Rovinj is very easy – You just have to access the Internet and look for some splendid examples of gorgeous apartments which you can rent for an ideal summer holiday in this beautiful part of Croatia.
The best places on Internet to find an apartment to rent are websites like Booking.com which offers guests review ratings. In that way You are given a chance to read an honest and objective opinion of the guests that already has been accomodate in that apartment.
Reading a review of the apartment, the guests of that accommodatio proprety evaluated different things like:
apartment location,
facilities,
value for the money,
comfort,
cleanliness.
In the town of Rovinj, we offer very affordable accommodation in apartments at various locations like: apartments in the old city, apartments in a quiet location, apartments in the inland, tourist resorts apartments  and apartments by the sea with a magnificient seaviews.
We hope that our Rovinj Apartments Tourist Guide helped You to find an ideal apartment accommodation for You and Your family or friends.
Best Rovinj apartments in the Old town
Rovinj is an idyllic town located in the western part of Croatian Istria. Because of the natural sights and the romantic atmosphere of the old city town, this city is one of the most beautiful tourist destinations on the Croatian coast.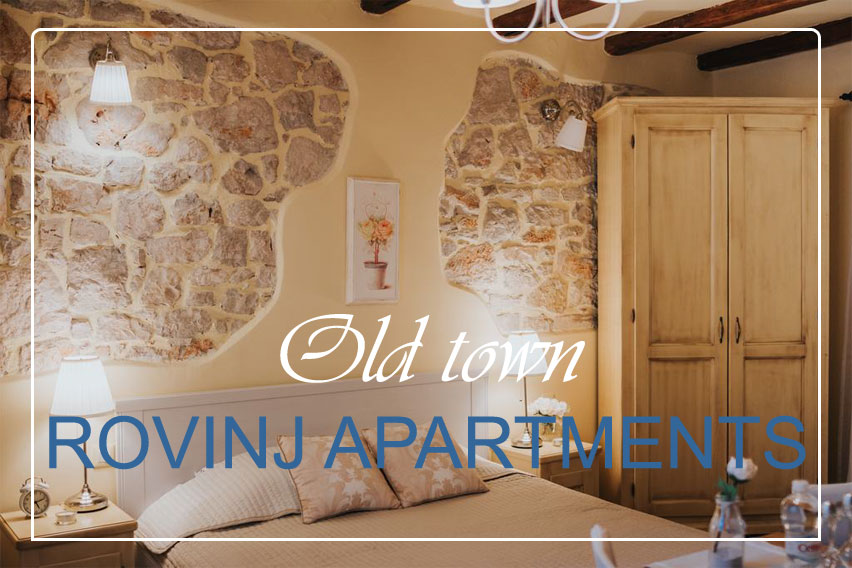 Tourists arriving in Rovinj must necessarily visit the Old Town, which is located on the peninsula, that once was an island.
The Old town of Rovinj rises on a hill above the sea and the rooftops of the city are dominated by the church St. Euphemia, which is dedicated to the Istrian patron saint.
There are lots of apartments in the Rovinj Old town, usually  smaller or studio apartments types. Renting an apartment in the Old town have advanatges and disvantages:
Rovinj Old Town apartments advantages
Advantages of the apartments located in the Rovinj Old Town zone:
The Old Town of Rovinj is a place where everything happens. Everything its near and there are lots of restaurants and caffe bars. The bus station, the waterfront known as "Riva" and the local green market are just a few steps away.
The Old town is the perfect start position for exploring Rovinj and feel the town romantic atmosphere.
You dont need a car.
Rovinj Old Town apartments disvantages
Disvadvantages of the apartments situated in the Rovinj Old Town zone:
The renting prices of the apartments situated in the Rovinj Old town area are a little bit higher.
The Old Town of Rovinj is very crowded during summer time.
There is a high demand for this type of apartment
Usually the apartments are smaller
The Rovinj Old town is a car free zone.
Choose the right apartment for You and enjoy your holiday while staying in Rovinj, Croatia.
5 Best Rovinj Old Town apartments
Dodati!!!
Rovinj apartments with pool
Apartments with a pool are suitable for tourists who dont neccesary want to visit the beach but still want to enjoy the sun and bath. Usually the apartments with pool are located outside the Rovinj Old center.
Before You book the apartment check if the pool is intended only for You or you must share it with other guests. Also check if there is an outside shower available near the pool.
Not decided yet? Read our Best Rovinj Apartment with Pool offer.
Rovinj luxury apartments
With the developing of tourism, there are lots of luxury apartment available for rent in Rovinj. This type of apartment has a minimum of four star (****) or five star (*****) categorisation.
Beside the standard equipment, luxury apartments usually include a pool or sauna, fantastic seaview, parking spot for guests, air condtion in every room, great designer interior,…
The price of luxory apartments in Rovinj is higher than the average renting price and the demand for this kind of accommodation is very high during the summertime.
Every year more and more luxury apartment are available on the rental market.
Not decided yet? Read our Best Rovinj Luxury Apartment offer.