High temperature summer days in Rovinj are spent on the pine-backed, pebbly beaches. But there is more to see in Rovinj than beachfront chic and those wanting to explore the delights of the region will find that Rovinj is an excellent excursion base, all the year round.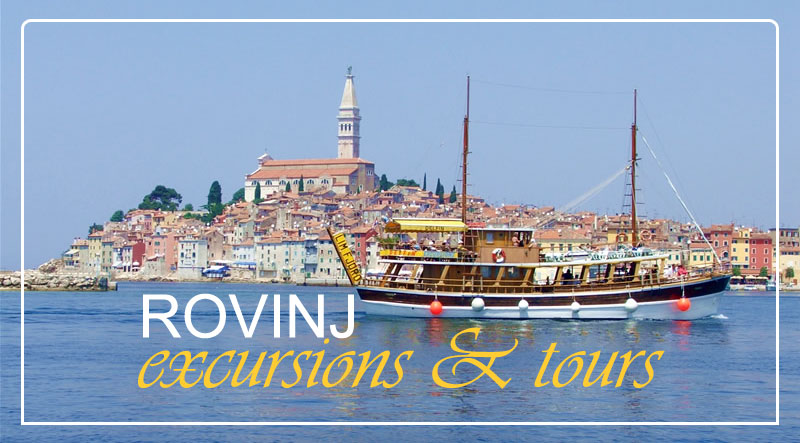 Best Rovinj Excursions and Tours
Expore Rovinj And the Old Town
The very picturesque picture of the city, the many beautiful beaches near Rovinj, especially the Golden Cape (Zlatni Rt) and its convenient location also for trips to the region make the city a very attractive destination for tourists from all over the world.
Rovinj Old Town – also called small Venice, pearl of Adriatic or Romantic Mediterran. Take a walk around small streets and find out why? More about Old Town.
Boat excursions from Rovinj
If you prefer to travel by boat, there are many different boat excursions: the Rovinj Archipelago, the Lim channel, or in Venice. Rovinj's archipelago is one of the richest and most beautiful in the northern Adriatic. It has 19 islands, islets and rocks. The largest island of the island of St. Catherine and St. Andrew (Crveni otok / Red island), where you can stay at the hotel. They can be reached by a regular shipping line.
BOAT TOURS and FISH PICKNICK – one of the best excursions in Rovinj, boat tours around islands, with stop for swimming, food, wine and beverages included in the price. Visit Lim Fjord, Pirates cave, and on sunset dolphinf tours. More about Boat tours and Fish Picnick.
Olive Oil and Wine testing Tours
An interesting variant of the excursion can be a good time tasting wines and oils and products of the same along the wine roads or olive oil roads. In Istria there are seven wine roads, even with 110 wine itineraries.
Truffles Tasting Experience
Meadows are close to Motovun – a place famous for its fragrant truffles. They are best eaten when just picked. There are held Truffle, a unique opportunity to buy fresh tubers, which they're harvested in the valley of the river Mirna and the Motovun forest. Truffles grow underground and are sought by using specially trained dogs.
Bike Excursions – Expore Rovinj by Bike or Segway
Istria is also famous for its cycling paths along the coast and the interior. Particularly marked trails are situated around Vrsar, Porec, Rovinj and Svetvincenat.
Rovinj Air panorama
Istria can be viewed with a bird's eye view: from the airport in Vrsar, near Porec, planes taking off for a tour of the Istrian coast to Kvarner.
Paragliding
Another way to be carried out during the holidays is paragliding. In the northern part of Istria, near Buzet (45 minutes drive from Rovinj), there are 10 starting spots. The most known is Raspadalica.
Birdwatching
Birdwatching is offered at 10 km from Rovinj, in a protected ornithological reservation – Palud, where You can see many different bird species.
11 Best location for daytrips and excursions near Rovinj
If you are visiting Croatia & istria for the first or even fifth time, we also provide information about tours to places like Plitvice National Park, Lim Fjord, and Motovun.
Our tours consist of visits to monuments and other activities, such as wine tasting and a fish picnic, which will let you discover the taste, sounds, smells, and soul of Istria.
You can also customize your tour! For customized tours contact us with your list of desired destinations and attractions, and we will find for you a personalized traveling experience.
1│Lim Channel or Lim Fjord
A highlight is the 11 km long Lim Fjord – a protected nature area perfect for sea kajaking or nordic walking. Lim chanel, looks similar to the Norwegian fjord, and its situated just twenty minute drive north of Rovinj. Lim channel is about 11 km long, up to thirty feet deep, and wide at the widest part, about 600 meters. On both sides rise to a fairly steep hill, sometimes to a height of 100 m. In the 60ies there was filmed a movie called "Long Ships", with Kirk Douglas in the starring role. Nearby, there are impressive ruins of the medieval town of Dvigrad.
2│Brijuni Islands National Park
Brijuni Islands National Park consist of 14 islands and islets. For a relatively small area (7 km2) ¸there are recorded hundreds of archaeological sites, Roman villas and settlements. Brijuni Islands are known for being the residence of the President of Yugoslavia, Tito – from 1954 to 1977.
3│Pula
Well worth is also an excursion to the nearby town of Pula which has an impressive Roman amphitheatre (the 6th largest in the world) and art deco market. The town of Pula is located 34 km from Rovinj and its the largest city in Istria County (90,000 people), known for its Roman monuments, one of which the most impressive surely is the "Arena" – the roman colosseum
4│Discover the Istrian Caves – Baredine cave and Feštinsko Kraljevstvo cave
Explore the undergound world of Baredine Cave with its 1000 stalactite /stalagmites and a secret lake with endemic species.
5│Pazin
Pazin (36 km from Rovinj) –is the administrative center of Istria and its located above the steep cliffs below which there is an abyss of Pazincica River which created a geological phenomenon known as the Cave of Pazin, a place mentioned in the novel by Jules Verne, "Matthias Sandorf". The small town of Pazin is dominated by an old castle-fortress in which is loacted the Ethnographic Museum of Istria.
6│Motovun
Motovun (47 km from Rovinj) is the best preserved medieval Istrian fort town built on top of the hill. Along the walls there is a phenomenal view of the surrounding fields. At the end of July, there is held the Motovun film festival dedicated to films made in small and independent productions from all over the world. The motovun film festival lasts for five days.
7│Grožnjan
Grožnjan (52 km from Rovinj) is a city of artists, the city of music. In Groznjan you can enjoy concerts of classical music, jazz festival, painting event "Ex Tempore", a number of exhibitions at the City Gallery as well as twenty private galleries and studios.
8│Labin
Labin (54 km from Rovinj) + until the last half century, many families fed in Istria through a coal mine which is now converted into a tourist attraction.
Labin is situated next to Park Dubrova, sculpture park, where every summer the Mediterranean sculpture symposium is held and where the  visitors walk around the sculptures connected to a single unpaved road.
9│Poreč
Poreč (36 km from Rovinj) has long been a target for cultural tourism . The town gem i san Euphrasian basilica, built in the VIth Century, and listed in the World Heritage by UNESCO in 1997.
10│National Park Učka
Fifty miles from Rovinj there is Učka – the largest Istrian hill (1400 m) and a national park. When the weather condition are good, there is possible to enjoy in an amazing views of the Istrian peninsula, the islands of the northern Adriatic Sea, the mountains of Gorski Kotar, Venice and the Alps.
11│Plitvice Lakes National Park
Another national park that should not be missed is certainly the Plitvice Lakes National Park which is listed on the UNESCO's World Heritage List since 1979, among the first in the world.