In the town of Rovinj and the surrounding area you will experience the wonderful nature, fill your heart and soul with love and your memories will enrich you with romance that can be found only in this small corner of the Mediterranean Sea.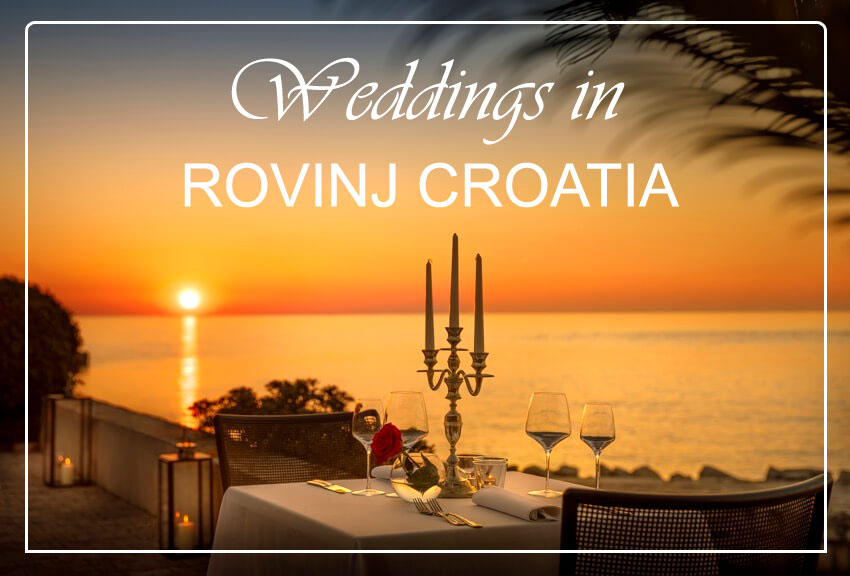 The town of Rovinj is situated in Istria and is a romantic walled town built on a peninsula like so many of the delightful coastal ones that are found in Croatia. Over recent years it has become one of the most popular holiday destinations in this lovely country. Situated on the beautiful west coast of Istria, Rovinj is probably the most romantic place in the Mediterranean.
It is true that maidens running off through the window to experience a night of love are increasingly rare, but, if that is what you wish, we offer you castles, balconies and bed sheets for your unique, daring romance.
Let us introduce you to Rovinj Weddings, your oasis of romance. It is amazing how many diverse locations this Istrian town can offer. Picturesque streets and beautiful churches, parties in the shadow of scent-filled pine trees or in the ambiance of a romantic castle!
This atmosphere can only be found here. This city began its romantic life on an island, a limited space, which made sense of the city structure of closely built houses, narrow streets and small squares. Visit us! The streets of Rovinj await you.
Except the Rovinj Old Town, there are many other amazing location in Rovinj, like the Red Island near Rovinj. For couples in search for an exculsive and intimate weeding (200 available seats) – the castle on the Island of St. Andrija (Red Island, St. Andrew) is a perfect chioce.