Rovinj boasts some delightful traditional restaurants, bistros and cafes where a variety of the best local dishes are served accompanied by the fine wines that are produced in the area.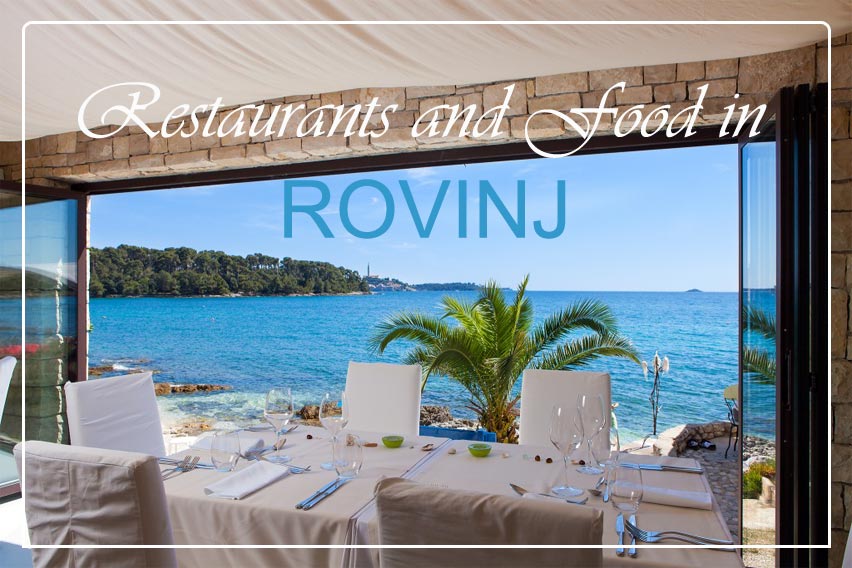 Down on the peaceful harbour you will find some wonderful places to eat. You can dine on a terrace as you watch the glorious sunsets over the Adriatic Sea. Many of these restaurants serve some of the most delicious fish dishes in Croatia. If you prefer, buy some freshly caught fish from the quayside and grill it back at your Rovinj apartment or villa.
10 Best Restaurants in Rovinj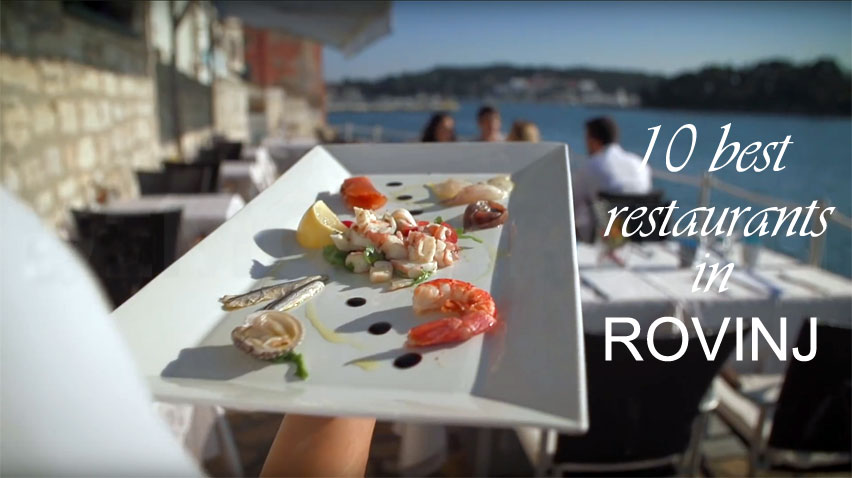 Rovinj is situated on the west coast of Istria, the biggest Adriatic peninsula. The town itself is rich in history and has some amazing architectural buildings.
Fine dining exists around every corner in the city. Fresh seafood is a must for visitors. The Adriatic produces some of the best seafood in the world. Barbecue restaurants are plentiful and a must do for all visitors.
The town has many excellent restaurants that present the unique Croatian-Italian cuisine of Istria, combining Adriatic seafood with the truffles and other delicacies of inland Istria. Meals can be complemented by the excellent local wines such as Malvazija and home-made grappa (called "Rakija").
The top three restaurants are Monte, Santa Croce and La Puntulina. Scuba is probably the best seafood restaurant.
1│Tavern Kantinon
Located in the Old town of Rovinj, at the seafront just a few meters from the sea, Kantinon tavern features a variety of dishes based on a long Rovinj fishing tradition and typical Istrian flavors. The persons behind this gastronomical concept are Tom Gretic and Emil Perdec – a popular croatian chef and a well-know Istrian sommelier. The interior of Kantinon tavern is arranged in a traditional style offering its guests a pleasant and relaxing atmosphere.
2│Restaurant Barba Danilo
Barba Danilo is a family owned restaurant offering different types of food, especillay sea food. The restaurant is situated in the vicinity of Rovinj, within the famous Rovinj camping site Polari. The menu is daily based, that means You will not find there any pizzas, fast food dishes or cevapcici. There are a big outside terrace, the inside area and a loggia. If You are in search for amazing food, excellent service and cool enviroment, then Restaurant Barba Danilo is the place You should visit for sure.
3│Pizzeria Da Sergio
Situated in the well known Rovinj artistic street – Grisia, a little tiny pizzeria Da Sergio is the place where I ate the best pizza ever. Fanatastic interior, friendly stuff, excellent service and cool atmosphere are included. Beside pizzas, Da Sergio also offers a variety of Italian dishes.
4│Restaurant Orca
Even the location of the restaurant is not exclusive, restaurant Orca offers fantastic food experience based on seasonal seafood and other typical Istrian cuisine dishes. The restaurant is located on the main road to Rovinj and its pretty easy to find. Its important to note that many Rovinj local crowd eat there and I think it is a very good indicator of the restaurant popularity and value. The restaurant Orca speciality are pasta pljukanci (type of Istrian pasta), lobster meals, truffle dishes, fish and meat.
5│Restaurant Blu
Restaurant Blu is located on the beachfront offering amazing view of a Rovinj Old town. The resturant is opened back in 2000 and in the year 2009 it upgraded to an aparthotel. The Ble cuisine is based on a fresh seasonal food and ingradients from a local producers. You can taste many different Mediterranean dishes mixed with a touch of a typical Istrian flavors. The restaurant offers a amazing handpicked list of wines – from Istrian and international. Amazing location, quality service and excellent food is what make Blu one of the best restaurants in Rovinj.
6│Restaurant Giannino
Opened back in 1972 by a son of a fisherman, restaurant Giannino is a sort of an icon of the Rovinj gastro scene. Being one of the best chef and owner – Corrado Pellizzer, with his two sons is in charge of this gastronomical wonder. The speciality of Giannino are fish dishes prepared on a daily basis depending of the day catch. All dishes in the restaurant are prepared strictly in a way that cherrish the local tradition and quality norms. Giannino restaurant is a winner of many gastro awards and its constantly ranked in the top 100 Croatian restaurants. The speciallity of the restaurant is "Rovinj brudet" or "brodetto alla Rovignese" – an awarded typical Istrian stew made of different types of fish and sheels. It is important to note that Corrado and his two sons: Nereo and Giovanni,  manage other two fantastic restaurants in Rovinj – Rio Bar and Puntulina. Do Yourself a favor and visit Giannino restaurant!
7│Restaurant Monte
Monte restaurant is a fine dining experience run by a husband and wife duo. This offers fine dining, although the prices are slightly higher than other restaurants around; but the food makes up for it! The main dishes are split into two categories: `from the sea` and `from the land`. The five course taster menu comes highly recommended and lets you experience all it has to offer. There are also vegetarian dishes to suit all tastes. They only use the finest locally sourced ingredients available to them. The service is often described as professional and friendly yet very discreet.
8│Santa Croce
Santa Croce has high quality food at a cheaper price. The menu has an Italian influence, which ranges from seafood to steaks and pastas. The restaurant does share its outdoor space with other business`s so if you do decide to dine outside head for the upper level.
Desserts seem to be what people really talk about at this restaurant; they are delicious.
9│La Puntulina Restaurant
La Puntulina is situated on a prime position overlooking the Adriatic. Infact, it is a family run restaurant with a cocktail bar downstairs. It is an up market restaurant but gives a homely feel inside, making you relax and unwind as you experience either the menu or the wine list. La Puntulina has an incredible drinks menu, to match its views and food.
You may be one of the lucky people to get a seat outside on the rocks and enjoy in the amazing scenery.
10│Restaurant Scuba
Scuba is situated at the end of the Rovinj harbour, just before you go up the hill. You can sit outside and have a perfect view of the harbour. If its seafood you are after, this is the place to go – the restaurant serves a wide variety of sea food as well as spaghetti and risottos dishes. The service is fast and friendly. Restaurant Scuba offer high quality dishes at very good prices and you won`t be disappointed.
There are many restaurants in Rovinj and in this article we have only touched the surface.
Although eating out in Rovinj can be expensive especially if you opt for fish restaurants, the pizza and pasta restaurants are much more reasonable.
Use your time before your holiday to do a little planning as to the excursions you are interested in and which of the restaurants appeal to you and your family.
Rovinj Hotel Restaurants You should visit
Hotel Monte Mulini Rovinj Restaurants: Restaurant Wine Vault, Restaurant Mediterraneo
Hotel Eden restaurants: Restaurant Burin, Restaurant  Oleander
Island Hotel Istra Rovinj Restaurants: Lanterna Fish Restaurant, Captains Club, A la carte restaurant Allegro
Hotel Adriatic Restaurant: Brasserie Adriatic
Hotel Delfin restaurant – Restaurant Tramonto
Family Hotel Amarin Restaurants: Restaurant Marvelus, Restaurant Istrian Beach House
Grand Park Hotel Rovinj Restaurants: Cap Aureo Signature Restaurant, Laurel & Berry Restaurant, Bitinada, Primi Terreni Restaurant & Delicatessen
Hotel Lone Restaurants: ResoLution Signature Restaurant, Restaurant On, Restaurant E.
Rovinj Gastronomy: Fine dining in Rovinj
In Rovinj, the hosts have difficulty in making recommendations. Since Rovinj offers so many different establishments, you will have to choose for yourself.
Rovinj and the Rovinj area feature numerous amazing eating spots that will to match even to the most exacting individuals – specialist fish restaurants, wine cellars, taverns, patisseries, soft drinks bars, rotisseries and bars for all tastes and palates.
Istrian specialities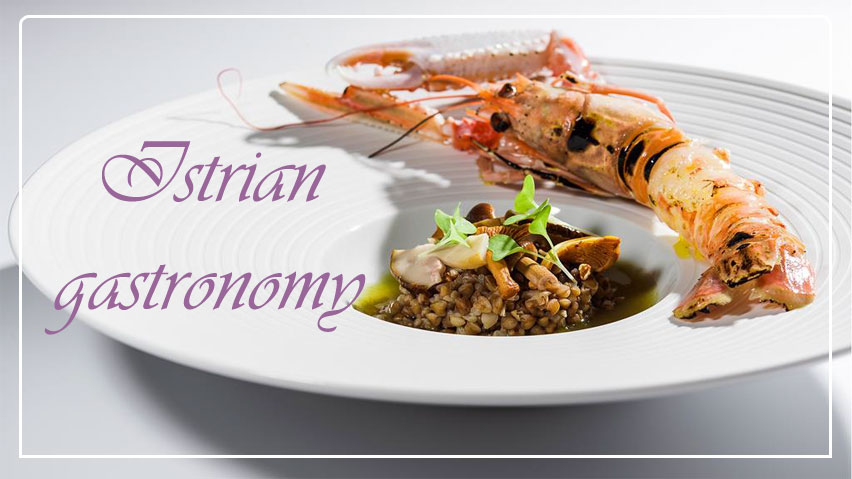 Istrian smoked ham must be soft and of nice pinkish colour. It is cut in slices with knife.
Istarska supa -is prepared in bukaleta (an earthen jug) with slightly warmed red wine (Teran or Borgonja) by adding a little sugar, oil, pepper and a slice of toasted bread. Put in a spoon and offer to the thirsty friends.
Rovinjski pelinkovac – bitter wormwood (Arhemisia Absinthium) herb – liquer of unique natural colour and flavour. Rovinjski pelinkovac may remind you of the mild Mediterranean climate and the red Istrian soil.
Typical Istrian food
Istrian smoked ham, sheep milk cheese, truffles "Manestra" (vegetable stew)
Home-made pasta: "fuzi", gnocchi, lasagna, macaroni with)stew
Meat dishes: home-made sausages, smoked fillet with sauerkraut
Seafood dishes: pilchard marinade, stew made of fish, sea shells, crabs or squids
Fish: gold fish, base, grooper, sea-bream…
Salads: made of crabs, octopus, musk octopus…
Sea-shells: oysters, scallops, "dondolw", mussels…
Sweets: "krostule", "fritule", "povetica", "cukerancici"
Typical Istrian wines
Malvazija-white wine
Teran-red wine
Borgonja-red wine
Hrvatica-rose
Fine wines
Pinot – white and gray
Chardonnay – white wine
Cabernet-red wine
Merlot-red wine
Muskat-white wine
Aperitifs and digestives
Home made brandy-with aromatic herbs
Biska-spezial brandy (Roc, Hum)
Komovica-special brandy