The city of Rovinj is well know as one of the best naturist (FKK) destination in Croatia. Its important to note that only a few kilometers north of Rovinj there is Valalta – one of the best european naturist (FKK) camping site and touristic resort.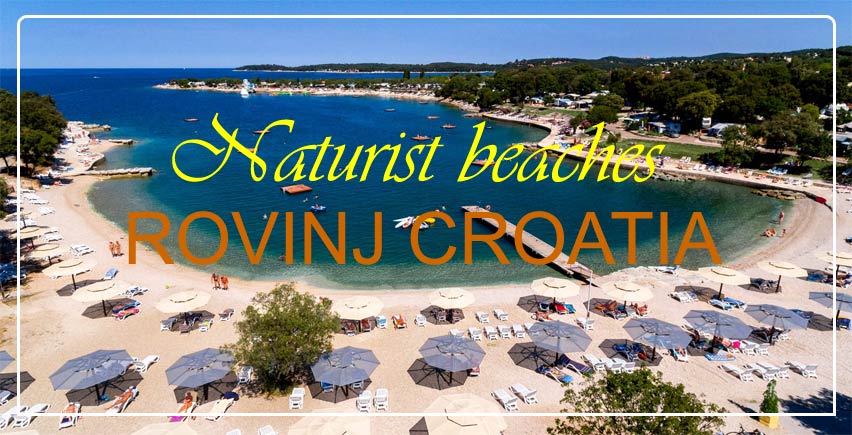 Did You know that Croatia is the third largest naturist (FKK*) destination in Europe.
Over 85% naturist items capacity is located in Istria where You can find 7 naturist (FKK) camping sites in total.
On the city beaches of Rovinj like Monte Beach, Lone Beach and Beach under the hospital – naturism is not allowed, but there are many officially declared naturist beaches outside the the old city center. On the other hand, the Rovinj surroundings offer many small secluded and wild beaches where numerous nudists enjoy the sun, sea and discretion.
Naturism in Rovinj is often performed within the many naturist camping sites which have beaches exclusive intended for that kind of tourism. There are also public beaches where naturism is allowed on specially designed parts like Škaraba Beach, Villas Rubin Beach and Camping Polari Beach…
Residents of Rovinj are used to see nudists on local beaches so it is not a distrurbing fact at all.
Rovinj archipelago with its numerous islands offer naturist hideouts on small, discreet beaches surrounded by amazing nature and crystal blue sea. One of the kind is the island Maskin situated in front of the Rovinj Old city town.
*FKK – the term FKK is an abbreviation of a german word "Freikörperkultur" which means "Free Body Culture" and represents a naturist way of living – nature experience, being nude without any direct link to sexuality. The persons which follow and practice this type of  lifestyle are called traditional nudists, naturists or FKK'ler.
Naturist Beach Kuvi
Situated in the middle between the Kuvi Bay and the tourist resort Villas Rubin – Naturist beach Kuvi features the following facilities: toilets, showers, sunshades and deckchairs rental, valleyball playground, coffee bar and a resturant. The beach is pebbly with rocky parts.
Extra tip: Read more about Kuvi Beach.
Beach at the Valalta Naturist Resort and Camping Site
Located six kilometers north of the town of Rovinj, the naturist resort & camping site Valalta is a world known naturist paradise. The pebbly beach mixed with sand spreads four kilometers through the Valalta camping site and features lots of facilities like pools, water parks, boat rental, pedal rental.
Also, there are many bars and restuarants where guests can enjoy tasty meals and refreshing drinks. For many years the beauty of the nature and the crystal blue sea attracts many nudists to visit this FKK popular tourist resort and camping site.
Valalta also features a marina with over than 200 nautical berths for mooring any kind of boats.
Extra tip: Read more about Valalta Naturist Resort.
Bay Punta Eva
Punta Eva Bay is an essential part of Camping site Polari, situated a few kilometers south of the center of Rovinj. At the southern part of the camping site there is Cape Eva beach which is intended for naturist and stretches till the end of the Polari camp.
The beach is gravel and pebbly and offer a nice arranged place for naturist and nature lovers.
Beach Maškin Island & St. Andrew Island (Red Island)
Maškin Island is connected with the Red Island (Crveni otok) – the largest island in the Rovinj archipelago. Altought on the Red island is possible to be naked on the beaches, throught the years Maškin Islands has established as a popular naturist spot and became an official naturist (FKK) beach.
The beaches on Maškin Island are rocky and the most popular are located on the southern side of the island. You can reach Maškin Island using a taxi boat operating from the Rovinj city center to the Red Island, on hourly basis.
Extra tip: Read more about Maškin Island and Red (St. Andrew) Island.
Beach Bay Guštinja
Gustinja Bay is situated in the Rovinj surroundings, about seven kilometers from Rovinj. The beach is hard accessible by car so the best way to come there is using a boat. Beacuse its hard reachable, Gustinja Beach is not overcrowded like other Rovinj beaches – what make it perfect for nudism. There are not facilities like toilets, showers and rentals.
Extra tip: Read more about Guštinja Beach.
IMPORTANT NOTE:
Some of the beaches are not FKK beaches any longer: Punta Eva lost it's FKK status, according to the Maistra. Also, parts of Cuvi and Rubin have FKK status on paper, but in reality, nudists are not welcome there. All that is left are Maškin, Valalta and Gusinja.