You've heard about Croatia? Rovinj should be your first choice. Rovinj – one of the most beautiful cities on Adriatic coast, located on the Istrian west coast. Due to its Mediterranean charm , gorgeous old city, ideal climate and many other qualities, Rovinj is one of the most popular destinations in Croatia.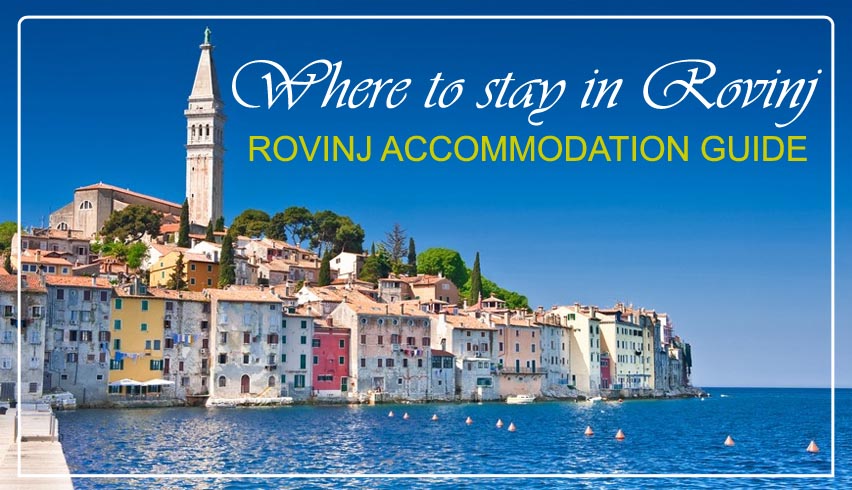 Create your own  pleasurable holiday in Rovinj starting with choosing your accommodation – holiday house, apartment or room. In our offer you will find hotels, from cheap hotel to 5 star hotels, newly renovated apartments in the old city center, houses by the sea or on some other peaceful location, luxury villas, rooms including breakfast and many other options.
Rovinj has many different types and styles of accommodation available to suit all budgets.
Don't wait for the last minute and reserve your accommodation on time using our illustrated and well documented travel guide of Rovinj. By doing this you are ensuring yourselves an unforgettable holiday.
If you choose to spend your holidays in Rovinj, will not be disappointed. The Rovinj riviera features a great number of hotels, tourist villages, campsites and marinas, as well as many catering establishments.
There is a wide selection of accommodation in hotels, camping sites, nudist camps, tourist resorts and even a vacation on the island. Rovinj archipelago consists of 22 islands and two islands has a developed tourist infrastructure. Red Island is well known as the Convention and Wellness island, and the island of St. Catherine is known for its fantastic views of the Rovinj Old town.
The hotels range from fairly basic to luxurious. However, a private villa in the city or in the surrounding areas would be an excellent choice for those who wish to experience Croatia and who long for a more intimate getaway.
Different types of accommodation in Rovinj
For a wonderful holiday the most important thing is to find adequate accommodation that will meet your needs and expectations and for which you pay a reasonable price.
We do not only promote cheap accommodation in Rovinj, but for every guest we create and offer the option of accommodation tailored to the taste, desires, expectations and opportunities.
We present accommodation in Rovinj and here you will find a large selection of apartments, rooms for rent, holiday houses & villas with swimming pool, bed and breakfast, guest houses, hotels…
The accommodation options in Rovinj are versatile. In addition to hotels in each category, there are also numerous apartments in every price range.
And if you have not yet decided on the type of accommodation in Rovinj , you should explore Rovinj.com.hr – an online travel guide that offers useful tips on the best holiday apartments, holiday houses, hotels and campsites in various categories.
Private accommodation in Rovinj
Private accommodation in Rovinj include apartments or rooms for rent owned by a private individuals or families. There are many apartments and rooms for rent in Rovinj – from luxury apartments with a sea view situated in the Old town area to a family apartment outside the center zone of the town.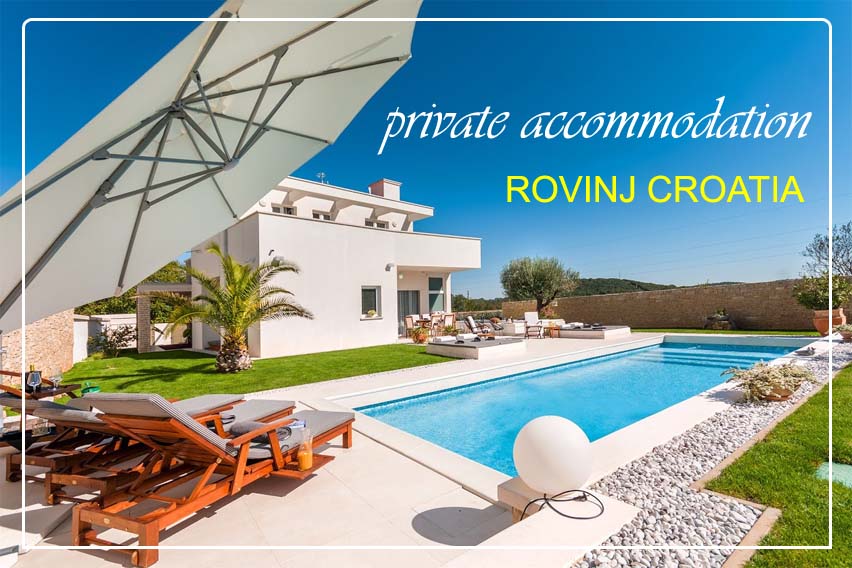 All the apartments should be categorisated from 2 stars (**) to 5 stars (*****). The price depends of the position of the apartment and how the apartment/room are equipped. It is important to note that the apartment or rooms situated in the Old city center, often have a larger price.
Basicly there are 3 types of private accommodation in Rovinj:
Apartment (Classic type)
Apartment (Classic type) – is the most featured type of accommodation in Rovinj, usually booked by families, friends or larger gruops of persons. This type of accommodation include: bedrooms, living room, wc/toilet, terrace and a separated kitchen.
Apartment studio
Apartment studio – this type of private accommodation is cheaper than a classic apartment beacuse the bedroom and a kitchen are not separated – they form one unit area. The apartment studio are smaller, cheaper and  intended for a small number of persons (usually 1-3 persons). These type of accommodation is popular in the Rovinj Old town zone.
Rooms
Rooms are intended for a small number of persons (1-3). Usually, room accommodation features one space with beds and a toilet/bathroom without kitchen. This type of accommodation is not the best chioce for families because they are ussually situated in the old city town – without parking spaces.
Not decided yet? Read our Best Rovinj Apartments guide.
Holiday homes and villas in Rovinj
Holiday homes and villas are very popular and growing accommodation niche that include a house/villa with a nice garden/ground plot. This type of accommodation is intened for larger families or a group of friends in search for privacy and comfort.
Holiday homes and villas usually features a luxury equippment like a pool, an outside kitchen with grill, a sauna and children playgounds, etc. The renting prices of a holiday homes are higher than apartments or rooms.
Not decided yet? Read our Best Rovinj holiday homes & villas guide.
Hotel accommodation in Rovinj
Hotel accommodation in Rovinj include over 15 hotels of different types and categories: from 5 stars luxury hotels to cheaper 3 stars hotels. Also, there are specializated hotels like family hotels or luxory designers hotels.
Rovinj Hotel leisure is a very popular among tourist and its not a unusual fact that you cant find an available accommodation during the peak touristic season.
For that reason we strongly advice You to make a reservation as soon is possible to avoid the lack of available rooms in Your favorite Rovinj hotel.
Not decided yet? Read our Best Rovinj Hotels guide.
Camping accommodation in Rovinj
Like every holiday resort, in Rovinj you can find the best five star hotels but the area also offers various options including camping sites for those with their own accommodation. In Rovinj and the sourounding area, there are 12 camping sites in total.
From smaller family orientated camping sites to large touristc settlments – the camping capacity varies from 30 to 5000 persons. All the camping sites feature pitching spots located in the attractive locations usually near the vicinity of the sea.
For demending guests there are camping sites that features luxury glamping tents and mobile homes that will fit everbody needs. For naturist FKK orientated tourist, in the vicinity of Rovinj there is a famous naturist camping site – Valalta.
Extra tip: Read our Best Rovinj Camping Sites guide.
Rovinj holiday and vacation accommodation rentals
In addition to exceptional Mediterranean architecture and many cultural and historic buildings, Rovinj boasts a unique natural beauty. Rovinj archipelago and the islands of Rovinj are protected nature reserve.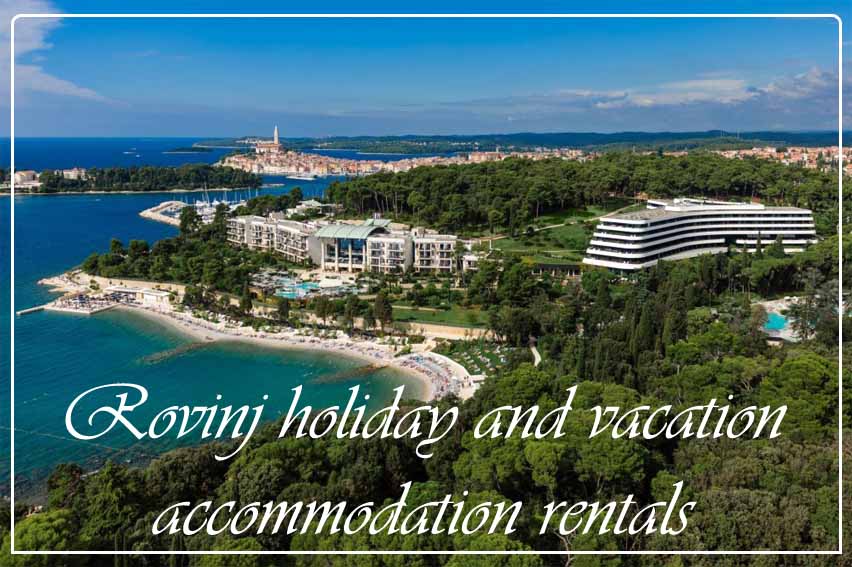 The largest and most famous island is the St. Andrew (Red Island, Crveni otok) and St. Catherine Island. You can visit them by a liner which goes every hour from a small pier located at main square. Both islands have lush vegetation, mostly covered with pine trees and there is one hotel (Hotel Istra Hotel and Katarina), with beautiful beaches.
You can also visit the islands by choosing one of the many boat excursions we offer.
Located about 1.5 km in the south direction, there is a Golden Cape (Zlatni rt) protected forest park. Beacuse its consisted of some of the most beautiful beaches and forests, this park offers a range of sports and recreational opportunities.
Well maintained trail that goes along the coast was included in a cycling map of Rovinj and is ideal for long walks in nature.
At the end of the Golden Cape there is an old quarry that was once used to build many stone houses and buildings, including those in Venice. Today, the quarry is used for climbing.
In order to make your holidays in Rovinj an unforgettable experience, Rovinj offers accommodation in different tourist facilities.
Choose from hotels located in a unique location beside the sea or on islands (Hotel Eden, Hotel Grand Park, Hotel Istra, Hotel Katarina, ), luxury hotels 5 stars (Monte Mulini, Grand Park, Hotel Lone).
In Rovinj there are also numerous car camping (Veštar, Polari), resorts (Villas Rubin, Amarin), nudist camping sites (Valalta) but also a large number of private accommodation facilities. Renting holiday houses, apartments and rooms has never been easier using our illustrated & well documented Rovinj Croatia Travel Guide.