The Croatian city of Rovinj is located in the county of Istria on the North Adriatic Sea and on the western coast of the Istrian peninsula.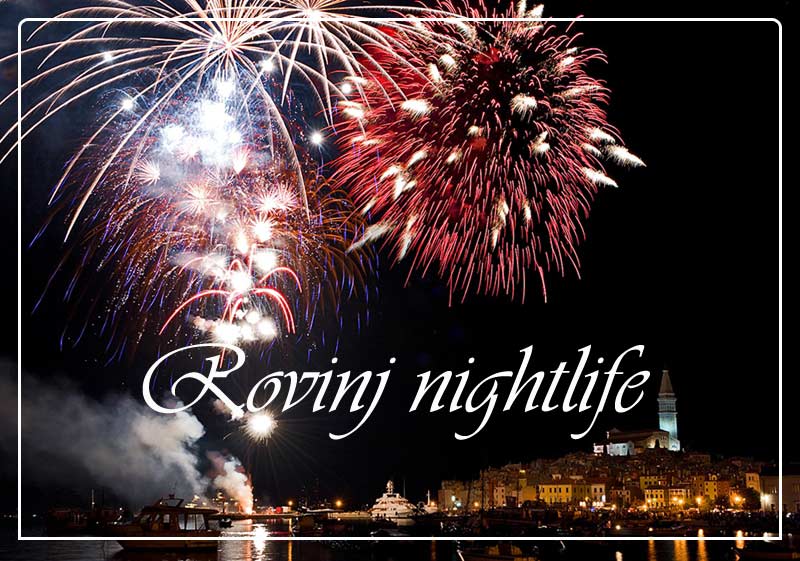 It is a particularly picturesque old city, making it a popular tourist resort. Its important to note that Rovinj is not a wild nightlife location but if You enjoy in moderate lifestyle and fun, it would be just fine.
Best Nightlife places in Rovinj (bars, clubs, events)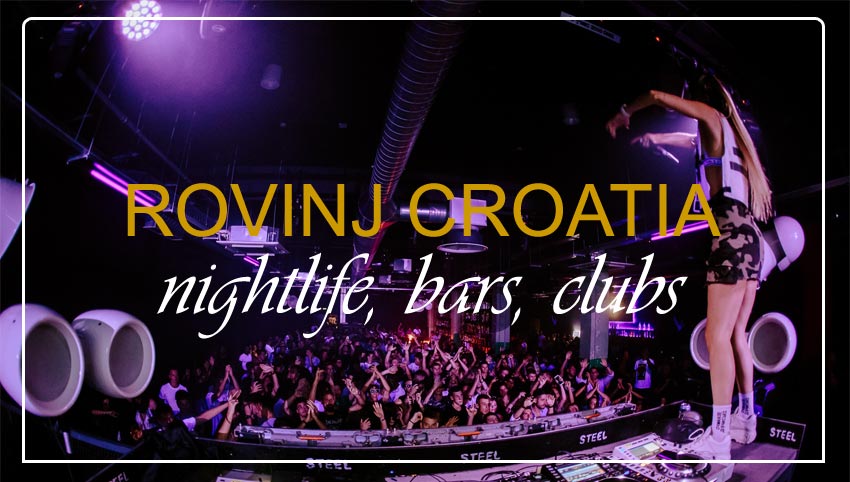 The city is officially bilingual and both Italian and Croatian are widely spoken. Served by Pula airport, which is distanced around 30 km south of the city, the trip takes around 40 minutes by car. However, it should be noted that cars are not permitted in the Old town area.
The old town is simply amazing – consisted of narrow, winding streets. The nightlife here is sophisticated and cultured with a good number of excellent restaurants and wine bars. The Piassa Granda has a selection of around 140 wines and while you could drink more cheaply elsewhere, if you want a good glass of wine served by connoisseurs, then it is well worth a visit.
If, however, music and excitement is what you crave, then there is plenty to be found in the city. The Steel club is a recently opened disco club in Rovinj offering music parties from disco music, clubbing to techno and feature internationally renowned DJs as well as top resident DJs.
Except Steel Club, the Boa Club is the only night club in Rovinj featuring parties with DJ that offers a whole late night fun with lots of young crowd and positive vibes.
If live music is your thing, then take a look to see what is playing at the numerous bars and restaurant outside terraces around the city, especially in the Old town. In Rovinj there are also many cocktail bars and an Istrian-style summer bars serving a great mixture of interesting beverages.
If you are hungry then there is an Italian Pizza Restaurant, a Mexican Restaurant or, for times when only sugar will do, a sweet bar serving ice-cream, pancakes, cupcakes and fruit cups for the health conscious.
If dancing is not to your taste, try the Havana Club. With a fantastic seafront location, they play Latino music, have a great range of drinks and a laid-back atmosphere which all make for a great night out.
Valentino Cocktail & Champagne Bar is a great bar with excellent loaction – just a couple of meters from the sea. You can drink Your favorite cocktail and in the same time enjoy the amazing Rovinj sunset. This bar is considered one of the coolest places in Rovinj.
Caffe Bar XL in the Rovinj old town is popular with both tourists and locals. It is conveniently located for the thirsty as it is located at the very top of the old town, at the foot of St Euphemia Cathedral. It offers great views across the bay, especially at sunset, an experience which is made all the better with a refreshingly cold drink.
For the ultra cool and retro, the Rio Bar on the Harbour is the place to be and be seen. It may not appear all that impressive, but with fantastic views across the harbour and the old town this little bar is right at the centre of the action. Get a table outside to ensure that you get the best of what the bar has to offer. Expect the music to be old school – with a healthy dose of the Smiths and Dire Straits, you can`t go too far wrong!
During the summer, Rovinj offers various places for entertainment such as disco clubs and bars like Steel Club, Monte Bar, Villas Rubin, Valentino Red Island, Monte Molini, Cafe Bar Batel, Eva, Havana Club, Zanzibar and more. It also has two casinos which are Adria Casino on the boat and Automate Machine Club Istra. In the summer months, all the city is buzzing with young people.
Rovinj offers concerts of classical music in the Franciscan Monastery, for those who prefer the peaceful vacation.
On the Last weekend in August, there has been held a popular open air Summer celebration with live music over multiple stages, a large fireworks display at midnight and local food offerings, sweet stands and beverage.
For more informations about events in Rovinj, visit our Rovinj Events page.
Dancing and entertainment in touristc leisures of Rovinj
Casinos in Rovinj
The Casino Automat Club "Istra",
The Adria Casino (on a boat).