If you want to spend a nice weekend, vacation in Rovinj or its surroundings and find peace cycling or enjoying view of the sea, islands, ancient monuments or pine-tree scent – you can choose one of the wide selection of bike excursions or rent a bike, yourself.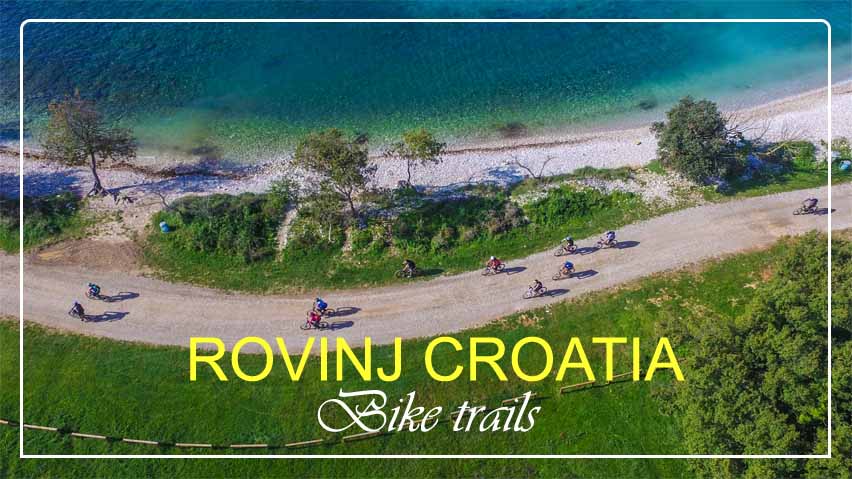 The many excursions differ on groups and type of bikes (road and mountain bike – MTB) and they adapt to the participants according to the dificulty of the tracks: easy, medium and difficult.
The excursions can also be organized as half-day or all-day excursions with all tourist attractions / programmes that go along (refreshment, lunch, organised visits and alike).
Best Organised Private Bike Excursions in Rovinj
Dodati iz get Your guide ili Viatora
Rovinj Bike trails
There are 9 bike trails in Rovinj and sorounding area in total. These bike trails differs in lenght – from __ to_ kilometers and offer an amazing insights in all the natural and cultural attraction of Rovinj and its rural area.
Its important to note that each trail is marked and well maintained with many road signs indicating the bike trail direction to follow.  You can choose from biking throught coastal forest or rural Rovinj inland that features an optional wine tasting.
Rovinj Bike trails – A Complete list:
201 Track Limes
Starting and ending in the Amarin Tourist Resort, the 201 Limes Track is suitable for MTB and its 39 kilometers long. This track features many natural and cultural attractions and the itinerary will take You throught the following places: Saline, Valalta, Rovinj village and Porton Biondi. You will see: the Kažuni, Turnina fortress and others.
202 Track Rubinum
The 202 Rubinum Track is 27.5 kilometers long and starts/end in the Polari settlment. This track features many natural and cultural attractions like Monkodonja archaeological site, Church of Saint Mary of the Snows, Lim Fjord and Church of St. Thomas.
203 Track Vistrum
Starting/ending from the amazing Lone Bay – at the entrance of the Punta Corrente Forest (Zlatni rt), the 203 Vistrum track is suitable for mtb users and its 26.6 kilometers long. This track passes throught various attractive places like: Villas Rubin tourist resort, Valbruna, Palud and Stancija Milić.
You will meet the beauty of the Palud Ornithological Reserve, Madonna di Campo (St. Mary of the Fields) church, Church of St. Nicholas, Burial tumuli at the Mušega and the Monkodonja Archaeological site.
211 North-Northwest track
The 211 North-Northwest is a very demanding trail that starts and ends in the town of Rovinj – at the Eden sport center. The total lenght of the track is 138 kilometers and its straight asphalt structured.
The 211 North-Northwest trail is a thematic track and will show You the Istrian inland places like Vižinada, Ponte Porton, Motovun, Karojba, Tinjan, Sveti Petar u Šumi, Kanfanar and Bale.
212 A postcard from Rovinj
This 63 kilometers long asphalt track starts/ends at Hotel Eden and is moderate demanding. The 212 A postcard from Rovinj track lead You throught western and central part of the Istrian peninsula where You will have a possibility to apsorb all the beauty of the Istrian inland including places like: Rovinjsko Selo, Kanfanar, ancient city of Dvigrad and Lim Fjord.
To complete this track You will need 2.5 hours approximately.
213 Rovinj Triangle track
As its name says, the 213 Rovinj Triangle track has a triangle shape and its 38 kilometres long, mainly made of asphalt. This track is suitable for everyone and its start/ends at the Hotel Eden Sport Center.
The track intinerary features place slike Putini, Bale, Rovinjsko Selo. Passing throught the Istrian picturesque landscape, You will enjoy many natural and historical attractions.
221 Stories from a Woodman's Cottage
Ideal for family and recreation, the 221 Stories from a Woodman's Cottage track is 9.2 kilometers long and mainly made of macadam (7.7 kilometers) and asphalt (1.5 kilometers). The track starts at the Zlatni Rt-Punta Corrente Park Forest  and passes throught following places: Škaraba Cape, Kuvi Bay, Staza Mira, Centenera streets.
The 221 Stories from a Woodman's Cottage track features many natural attractions to enjoy while cycling. The approximate time to complete this track is 40 minutes.
222 Trail of the Noble Giant
The 222 Trail of the Noble Giant track is ideal for families in search for recration. The track itself is 11.7 kilometers long, mainly made of macadam (7.4 kilometers) and asphalt (4.3 kilometers). The trail starts/ends at famous Rovinjs tourist resort Amarin and for completion You will need 40-70 minutes in total.
Along the trail You will have the opportunity to see many cultural heritage sites like St. Christopher's Church, the ruins of the church of St. Prothus and St. Bartholomew's Church. Following the Rovinj coastline (Saline bay), You will also enjoy all the natural beauties of Rovinj surroundings.
Track Basìlica
The Basilica Track is 18.7 kilometers long track that starts at Valalta and finishes at Rovinjsko selo. Its a pretty easy track to complete – You will need approximately 1.5 hours in one direction. The track structure is mixed – its maily macadam (10.4 kilometers), asphalt (7.6 kilometers) and field roads (700 meters).
The Basilica track features many historical and natural attractions and following the track you will have the chance to see: Basìlica valley (former agricultural good with many roman churches), Church Of St. Bartholomew (St. Bartol) The Apostle, "Montèro" Agro-Tourist Estate, Church Of St. Christopher, The First Tumbìn – Mondelàco Quarry, Church Of St. Thomas The Apostle, The Second Tumbìn, Church Of St. Protus The Martyr, The "Haber" Riding Center, The Lim Channel, and Rovinjsko Selo.