What is the Rovinj Batana?
Rovinj batanas – are flat-bottomed boats under the protection of UNESCO because of their durability and the traditional way of construction. In the ports all along the Istrian coast, especially in the Rovinj Area, protected from the winds, numerous batanas are parked even today.
Rovinj Batanaˈs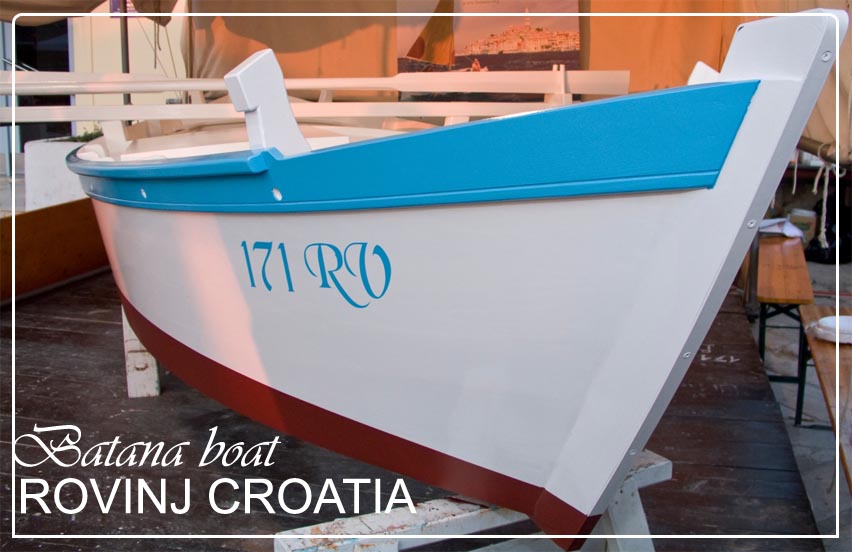 Rovinj Batana – is a wooden boat with 12 to 15 timber flat rib length from 4.6 to 8 meters. Batanas have a flat bottom and inclined obliquely repayment. The ribs are made from oak and sometimes pine.
According to some opinions name Batana comes from ancient sea call "Batto" which was called a small wooden rowing boat in the 14 century.
In bigger Batana which have lenghts up to 8 meters, it is common to put sails –  that the reason Rovinj fishermen could go fishing to the Kvarner Bay or even Piran.
Because of the flat bottom, a small gauze and an ability to maneuver, batanas were also suitable for fishing in shallow waters.
Rovinj is the only city where during the summer you can see how Batana is hand maded.
All additional information about Batana even Batana photos can be found on the excellent website "The House of Batana".
Batana Eco House Museum
Batana Eco House – is a museum dedicated to the ancient fishing boats – BATANA, which are still sheltered in numerous ports along the Istrian coast and which you can see in the harbors and marinas of Rovinj.
Did You know that: Flat-bottomed Rovinj batanas are protected as a UNESCO World Heritage Site due to the preservation of traditional construction techniques.
"Batana House" is not a static museum with a complete exposure. In addition to the boats themselves and fishing tools – events and happenings are constantly held there, combining fascinating stories about ancient wooden ships and the modern life of a Croatian fisherman.
This is the main reason why the Batana House as an environmentally friendly museum was created.
This is a dynamic project that offers, in addition to the permanent exposition of batanas and fishing gear, various activities that provide a unique experience combining tradition and modern life, past and present, and the story of the ancient wodden vessel which still remains part of Rovinjˈs everyday of life.
The museum holds numerous recognitions and the first prize for the heritage – the Excellence Club of Congress, part of the Expo Museum and the heritage fair in Cologne.