Situated on the west side of the Istrian peninsula, right between the towns of Rovinj and Vrsar, Lim Fjord or Lim Channel represents one of the natural attractions of the region of Istria, Croatia. On the north side of the Lim Fjord, there is St. Roumuald cave.
The cave got its name from St. Romuald – a priest who lived a solitude life in this cave in the period of  thousand years ago.
In addition to St. Romuald life, there are informations that he found the monastery of St. Mihovil on Lim, around 1040.
Since 1595, on February 7, the inhabitans of this region celebrated the St. Romuald day, in memorial to St. Romuald. Today ,the celebration starts on June 19, as the day of his death.
Another legend says that the cave got its name – "The Pirate Cave" beacuse of captain Henry Morgan – a outlaw pirate captain from Wales who after years of robbering ships near Cuba, Cartagena, Grenada, escaped and hide his treasure in this cave.
Near the St. Romuald cave there is a little village called Mrgani (Morgani) – and its belived that the village got its name from the Captain Morgan who lived there.
The formation of the Romuald cave begun in the lower Pleistocene, and it was completed in Middle Pleistocene. The cave is full of findings like: the remains of cave bear, cave lion, leopard, wolf, fox, brown bear, cave hay, snow bunny, bass, large volcanoes, wild horses, deer, deer, cuddly and more bones of birds (total of 41 species).
In addition to the remains of extinct ice-eared animals, in the sediments of the cave was found an evidence that a parochial-paleolithic man – hunter was visiting the cave. The most important finding is the teeth of the younger member of the Homo sapiens fossilis, which is also the oldest remainings of a man in the Istrian peninsula.
In the middle of the cave, on the ceiling of a large hall there is a colony of the big bat (Myotis myotis), a  legally protected species. For that reason the visits to Romulad cave are limited and possible only in groups up to 10 persons with proffesional guidance.
In the time period – end of June to the middle of September there is a regular professional guidance, from 10 am to 5 pm. In other parts of the year, visits are possible only upon prior notice.
Romuald Cave – 2019 Update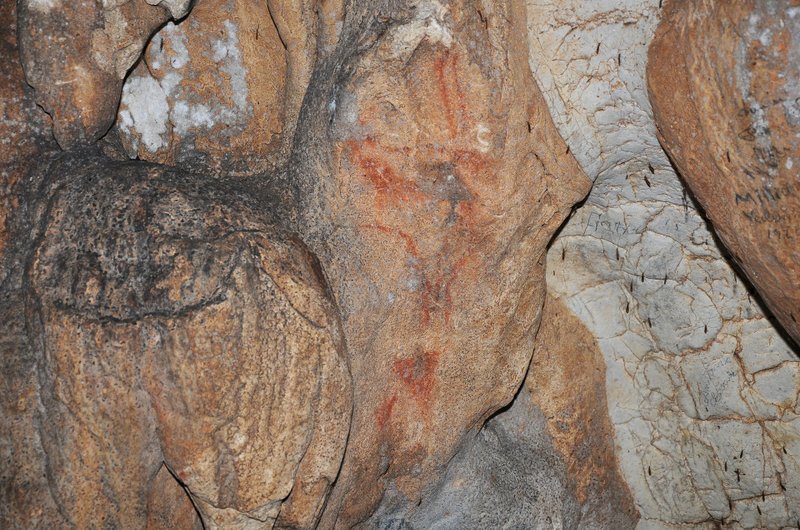 In the first half of 2019, an international scientific team discovered a series of prehistoric paintings from the Paleolithic period, aged over 30,000 years ago. These paintings represent animals like bison and chamois as well human figures and are considered unique in Croatia.
NOTICE:
Due to this amazing findings, the Romuald Cave is enclosed for visiting. Once the circumstances permit it, it will again be open to visit!